Stop genocide, don't just react
Urges UN secy-general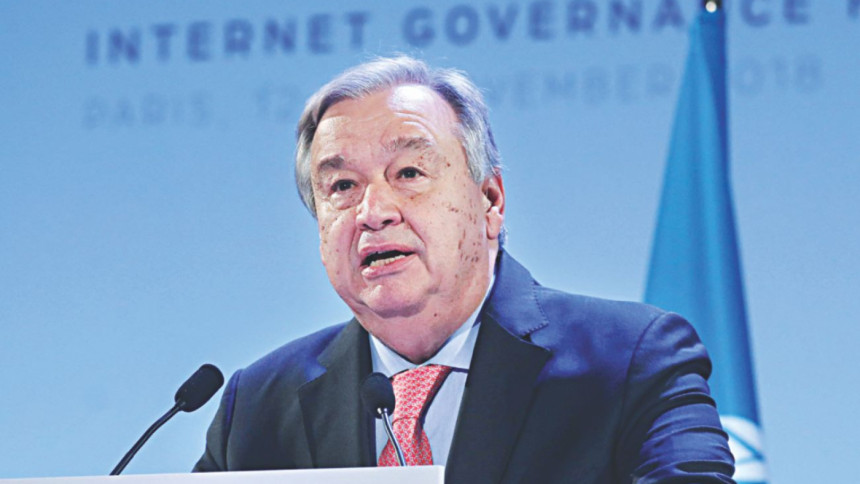 UN Secretary General Antonio Guterres has urged the international community to prevent genocide instead of just reacting to it.
"Genocide does not happen by accident; it is deliberate, with warning signs and precursors," he said yesterday while speaking on the occasion of the International Day of Commemoration and Dignity of the Victims of the Crime of Genocide and of the Prevention of this Crime 2018.
"Often it is the culmination of years of exclusion, denial of human rights and other wrongs. Since genocide can take place in times of war and in times of peace, we must be ever-vigilant," he said.
Mentioning the Rohingya refugees in Bangladesh, Guterres said he was extremely concerned about the plight of the Rohingya Muslims, some of whom were "systemically killed, tortured, raped and burnt alive."
He would never forget the bone-chilling accounts he heard from the Rohingya refugees in Bangladesh earlier this year, he added.
"My generation believed that after the Holocaust, we would never see genocide again. We were wrong.
"Modernity does not protect us from genocide. The digital age does not protect us from genocide. Nothing but our own actions, based on our values and principles, can protect us from genocide. The Genocide Convention offers an essential legal framework for our efforts."
The International Day, which was established by the UN General Assembly in 2015, has since been observed annually on December 9, to mark the adoption of the Convention for the Prevention and Punishment of the Crime of Genocide.