Reporting of adverse drug reaction crucial
Medical experts say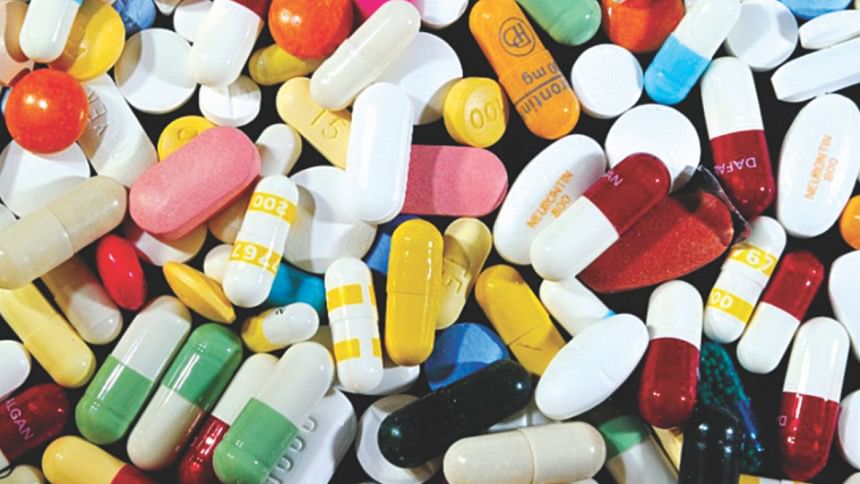 A 15-year-old boy died in 2005 following intake of Levofloxacin that is prescribed to treat bacterial infections. He had suffered severe forms of adverse drug reaction, but it was too late by the time it was diagnosed.
This was the first case of adverse drug reaction reported in the country. The second similar fatal case was reported three years later of a 40-year-old female.
These two cases might be the extreme outcome of medical drugs, but to experience side effects that are unknown of a drug even after it gets licenced and authorised is not unexpected -- not to the healthcare providers and manufacturers. That is why reporting of adverse drug reaction is crucial to ensuring medicine safety.
Unfortunately, all stakeholders -- doctors, nurses, pharmacists and others in the pharmaceuticals industry -- lack awareness and commitment to reporting any unwanted drug reaction when they come across it, said experts at the 4th Samson H Chowdhury Memorial Conference on "Bangladesh Pharmaceuticals Industry and Current Issues" at a city hotel in the capital yesterday.
The event was organised by Square Pharmaceuticals, the market leader, to commemorate Samson Chowdury, who founded the group.
While giving a presentation on adverse drug reaction (ADR) reporting, Prof Sayedur Rahman of pharmacology department at Bangabandhu Sheikh Mujib Medical University said medicines are meant to heal diseases, but they themselves have negative impacts on health. So, benefits are weighed up against the risks while prescribing a drug.
Racial, genetic and environmental factors influence the pattern to a great extent, the BSMMU pharmacologist said. Pre-marketing studies and trials reveal only half of the risks involved since drugs are tested at the time on a limited number of people. The potential of remaining risks could be learned in the next 15 years through ADR reporting.
Science and activities relating to detection, assessment, understanding and prevention of adverse effects and any other drug-related problems are called pharmacovigilance.
Pharmacovigilance has been well discussed since the Directorate General of Drug Administration drew the National Guideline on the Pharmacovigilance System in Bangladesh in 2013 with the help of the USAID. The health and family welfare ministry set up the National Pharmacovigilance Centre at the DGDA and formed an Advisory Drug Reaction Advisory Committee to assess reports and recommend regulatory decisions and actions to ensure medicine safety.
To enter the global scenario, Bangladesh also became the 120th member of the World Health Organization's International Drug Monitoring Center in December 2014.
But the results of all these are not very promising.
Referring to a survey, Sayedur said a good number of doctors comprising 65 percent were aware that adverse drug reaction could be reported. However, only 8 percent saw the reporting form. The number of positive respondents dips further to 4 percent when asked about how to report a case. It was shocking to learn that none of them was trained to submit an ADR reporting form.
Underreporting of such reactions can have severe impacts on public health as globally one in seven hospital in-patients experience adverse drug reaction, Sayedur said, adding, deaths of hospital in-patients due to such occurrences are 0.24-2.9 percent. In the USA, the fourth major cause of deaths is ADR.
At the outdoor of Dhaka Medical College Hospital, 11.9 percent patients were diagnosed with ADR. At selected outdoor at BSMMU, 3.75 percent patients were seen to have encountered such reactions, Sayedur informed.
The ADR also has a toll on the health economy. According to an estimate in 2000 in the USA, economic impacts of ADR exceeded $177 billion.
Bangladesh does not have any such studies.
Reporting of any reactions may lead to changing in the dosage, packaging or labelling or withdrawal of a product from the market in the interests of public health.
The pharmaceuticals industry should come forward to encourage the practice of ADR reporting as that would help boost their credibility, which is necessary when they look forward to expanding their market outside the country, experts said at the programme.
By not reporting adverse impacts of drugs, Sayedur said, "We are not participating in the global knowledge-building process."
Confirmation of an ADR is not necessary, he said, adding that "just report" whenever untoward consequences are noticed following intake of medicine.