Refusing to quit
Blinded at early age, Sujan channeled his energy into music to become the mastermind of all cultural activities in his hometown Kushtia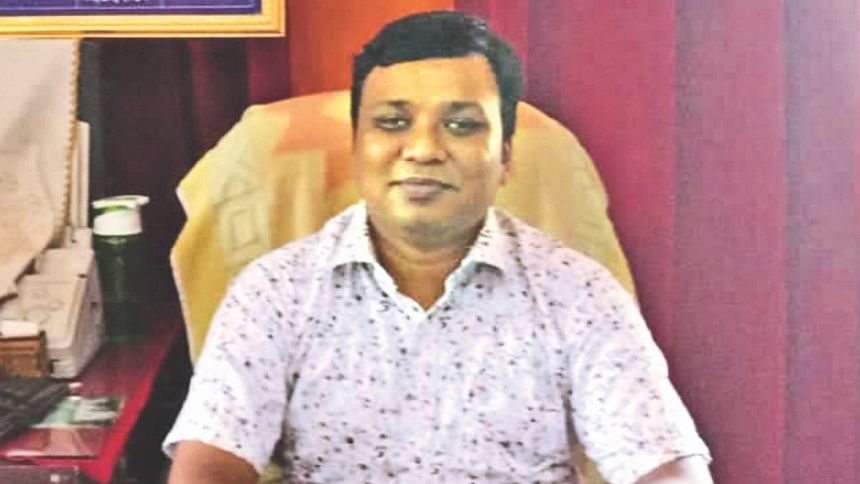 Sujan Rahman went blind very early in his life, but he never gave up hope of achieving his ambition.
A passionate lover of music and poetry, he learnt Braille so he can study.
After completing a Master's degree in public administration from Islamic University in Kushtia, he joined Kushtia Shilpakala Academy on July 13 in 2013. He looks after all the cultural activities in the district as the cultural officer of the academy.
He achieved success in his profession as well. Last year, he was awarded as the Creative Cultural Officer in recognition of his innovative and creative role in his job.
"You just can't put into words how it feels when you are honoured at an institution where you had been a student," Sujan told this newspaper last month.
In March last year, the 32-year-old lyricist wrote and composed the theme song about Kushtia titled "Bondhu bolo kon zilati sangskritir rajdhani". The song was composed for branding the district and highlighting its uniqueness.
As a visually impaired person, he had to endure an ordeal in a country where the differently abled people go through difficulties and hardship.
Sujon lost his eyesight at the age of one and a half years due to sickness. His parents took him to doctors and tried all that they could to cure him, but in vain.
Witnessing his passionate interest in music, his mother took him to a music teacher.
While studying in eighth grade, he formed a music group called "Hindol Shilpi Goshti". It started performing in stage shows in different districts.
Sujon also took part in talent hunt competitions on radio and television channels. 
During his college days, he received 19 awards for recitations and rendition of songs. He later won several other awards for his works in the fields of poetry and music.
The accolades include Jatiya Shikkha Saptah Puroshkar, Close-up Confidence Award, ATN Bangla Shapla-Saluk Puroshkar and Islamic Foundation Shishu Kishore Puroshkar
"I could not have achieved success without the inspiration from a special person. It is none other than my mother," said Sujan, adding that she sacrificed so much for his success.
He is also thankful to his wife for supporting him in his endeavours.
He showered his colleagues with praise. "I'm really pleased to have such wonderful colleagues. They all are very cooperative and supportive."
  Sujan is among the 14 people from the Shilpakala Academy offices across the country who has been awarded "Creative Cultural Officer Award" for 2018.
He hoped this award would help him on his way to future success.
Sujan is now a role model for many young people who are trying hard to reach their goals, said Md Ashraf Uddin Nazu, executive member of Kushtia Shilpakala Academy.