Farmers to get fair prices from next season
Says agriculture minister about paddy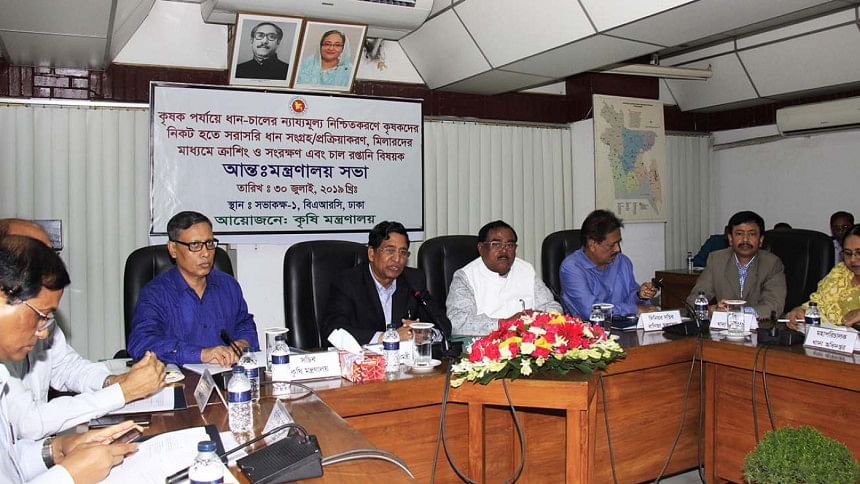 Agriculture Minister Abdur Razzaque yesterday said the government would make efforts to ensure paddy farmers get a fair price for their produce next season.
"Agriculture  still plays a huge role in the country's economy. Farmers produce crops after sweating long hours under the scorching sun and getting wet in the rain. It cannot happen that farmers do not get fair price for their produce," the minister said.
He made the comments while addressing an inter-ministerial meeting at the conference room of the Bangladesh Agriculture Research Council.
The meeting was organised to deliberate government efforts to ensure a fair price at the farmer's end. 
The agriculture minister said the government would reduce price of fertiliser and increase incentives for farmers if necessary, in order to benefit them.
The minister said the country would have to create a position for itself in the world market through importing rice. "The country now produces quality rice, which can ensure our presence in the competitive world market."
Razzaque also said they would import rice even though its price was low in the world market at the moment. 
To this end, the minister  announced that the government would provide 20 percent incentive for exporting rice.  
"If necessary, the government will give rice to poor people at a lower price after procuring it from farmers." 
Razzaque said production cost would have to be reduced to make agriculture profitable.
He said the government was prepared this time so that there wasn't a repeat of farmer's getting low prices next season.
The minister said the government would provide different agricultural equipment to farmers in a bid to reduce paddy production cost.
Besides, the minister said the government would give moisturising measurement machine to each deputy assistant agriculture official tasked with measuring paddy moisture and they go door to door to do so. 
Food Minister Sadhan Chandra Majumder, in his speech, said the government would construct 162 food warehouses across the country with the capacity of 7-8 lakh metric tonnes.