Protecting those keeping city clean
Facebook group ICAN BD steps up to safeguard city cleaners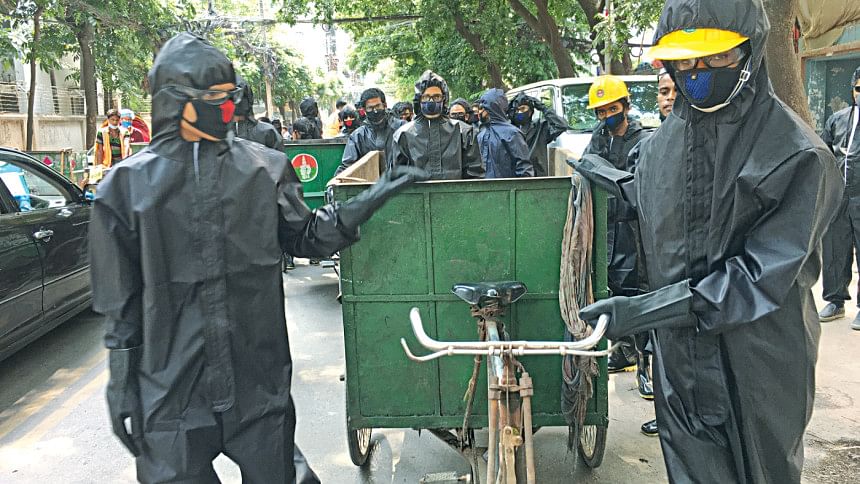 "Stay home, stay well: beware of the virus… these are nothing but some fancy words for people like us who are working to keep you healthy by cleaning your city during a pandemic. But what did we get for this? Nothing.
"We had just been left to die. In the midst of all of this, a man and his friends have come forward to help us with personal protective equipment," a waste collector in Rampura said while talking about the hardships their community is facing during the Covid-19 crisis.
According to a survey, households in the capital generate around 4,500 tonnes of waste in a single day and more than 21,000 cleaners and garbage handlers are involved in the management of this waste. During the outbreak of the highly transmissible virus, the waste collectors are at a higher risk of infection as they do not have any PPE or any proper training; they are working now as they always have -- with their bare hands.
"Two years ago, when I was working to achieve universal health coverage in Bangladesh under the USAID-funded health finance and governance project, I had seen how waste collectors felt unprotected every time when collecting garbage without protective gear," said Tanver Hossain.
With an aim to support the vulnerable group, he along with two friends created an Facebook group called ICAN BD, through which they undertook an initiative titled Corona rukhte porichchhonnota kormider pashe (Standing beside cleaning workers to stop the spread of coronavirus), earlier in April, said Tanver.
They are raising funds through the group and providing the necessary protective equipment, soap and other relief items to garbage collectors. People in Bangladesh and abroad have also joined the initiative.
Tanver said, "The waste collectors have to move through different holdings to collect household waste. Moreover, they are engaged in sorting different types of waste to collect saleable plastic materials, which exposes them to high risk of Covid-19 infection. So, the garbage handlers could unknowingly become carriers of coronavirus. The safety of their lives is important as it is important to dispose of the garbage and, most importantly, to reduce the possibility of social transmission. Therefore, we realise that we need to ensure their safety first."
To this end, they have designed a free package for the safety of cleaners and garbage handlers, which includes a PPE, gumboots, washable mask, PVC hand-gloves, safety goggle and two soap bars. They are also providing a food relief package for their families including 5 kg of rice, 2 kg potato, 1 kg lentil and 1 litre vegetable oil. In addition to providing this support, they have been raising awareness through social media on avoiding community transmission of coronavirus, regular use of safety equipment and highlighting the importance of the safety of cleaners and garbage handlers.
They have served more than 1,200 cleaners and garbage handlers in Tejgaon, Uttara, Mirpur, Adabor, Gulshan, Rampura, Nazira Bazar, Mohammadpur, and Niketan till now, said Tanver, adding that "Urmi Group, a garments manufacturer, who are making PPE suit for medical professionals has supported us with 500 suits."
Apart from this, they are visiting the respective areas of waste collectors and training them on how to use personal protective equipment while on duty, he said, adding that they have also appointed volunteers in the respective wards, who give them pertinent information about the waste collectors. Alongside, they have supported the families of 720 sweepers in Nazira Bazar with washable masks, PVC hand-gloves and a pair of soaps.
Waste collector Hazrat Mia of Banasree said he has been in the profession for over two decades but this was the first time that he was given personal protective equipment. He thanked "Tanver bhai" and his organisation, ICAN BD, for helping them with the protective gear, food and other necessary items in this trying time.
Tanver said people who are active on social media have been providing lists of cleaners and garbage handlers from different parts of Dhaka. Based on that information, they are reaching out to those garbage handlers with necessary items and encouraging them to continue their good work by ensuring personal safety. This entire activity is being conducted through the contributions of people at home and abroad.
This initiative of ICAN BD, a social development organisation, has received tremendously positive responses from residents of other cities like Chattogram and many have begun to join the initiative, he said.