Development challenges even stiffer now
Experts say child marriage, early pregnancy, family planning, unemployment big obstacles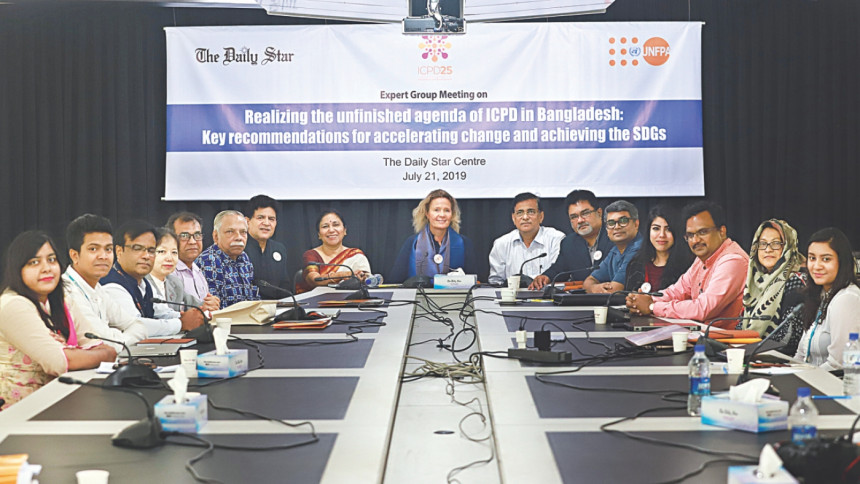 Bangladesh is facing huge population and development related challenges owing to high prevalence of child marriage, early pregnancy, and sluggish progress in family planning and poor youth unemployment, said experts yesterday. 
The challenges have become daunting thanks to the rising violence against women and children, lack of good governance, high rate of maternal death and inadequate access of poor people to healthcare facilities in the urban areas, they told a roundtable yesterday.  The event titled "Realising the unfinished agenda of ICPD in Bangladesh: Key recommendations for accelerating change and achieving SDGs" was organised by The Daily Star and United Nations Population Fund (UNFPA) in Bangladesh at The Daily Star Centre.  
Economists, representative from the government and the private sectors, population experts, and rights campaigners took part in the discussion.  The discussion was focused on the Programme of Action (PoA) taken at the International Conference on Population and Development (ICPD) held in Cairo in 1994 to improve the quality of life of all people across the globe. 
Bangladesh also took part in the conference and committed to implement the PoA. Implementation of the PoA is also needed to achieve Sustainable Development Goals by 2030, said participants.  
In the 25 years of ICPD, Bangladesh has made progress in many areas, including registering steady economic growth, ensuring gender parity in primary education, and reducing child mortality. The extent of child marriage has reduced since 1994, but still remains high, said Mohammad Mainul Islam, professor and chairperson of population sciences department at Dhaka University. 
The rate of early pregnancy reduced by only two percent to 31 percent in 2014, he said, adding that the Contraceptive Prevalence Rate (CPR) has increased to 62 percent in 2014 from 42.6 percent in 1993-94.  
"We had a target of increasing CPR to 72 percent by 2015. But it has remained stagnant for the last several years," he said, adding challenges increased further because of growing ageing population and youth unemployment, presence of a large number of idle youths. 
The share of youth not in education, employment or training is 29.8 percent of the total youth population.   
"There has also been no improvement in income inequality reduction," he said. 
Mainul said Bangladesh is passing through the phase of demographic dividend and it does not have enough time to reap the benefits. 
Social movement is very important in preventing child marriage, said Shaheen Anam, executive director of Manusher Jonno Foundation.  
She said many parents marry off their daughters due to safety and security concerns. 
She pointed out that door-to-door campaigns proved to be useful in reducing population growth in the past and suggested that the authorities to launch similar campaigns again. 
"But only providing contraceptives and door-to-door services does not bring down the population growth. It has to be followed up with reproductive health services and education." 
She also stressed that women need to have more decision-making power in the family as well as in the society.  
UNFPA Representative in Bangladesh Asa Torkelsson said investing in access to family planning could yield 14-fold.
However, citing the UN, she mentioned that the cost of preventing women from dying in childbirth is projected to increase six-fold by 2030, requiring billions of dollars to achieve global targets.
Editor and Publisher of The Daily Star Mahfuz Anam said Bangladesh had achieved a remarkable success in population control in the past few decades, but the policymakers became a bit relaxed later.   "Overall, there is not that much of emphasis in the national psyche. And the reason for that is the overall feeling that we are doing very well in the population issues," he said. 
However, Shamsul Alam, senior secretary and Member of the Planning Commission, said the government has genuine concern regarding population growth control.  
Total fertility rate is not declining. So, there is a genuine concern for government on how to address the issue, he said.  
Hossain Zillur Rahman, executive chairman of Power and Participation Research Centre (PPRC), said the family planning department is not empowered enough as it does not get adequate budgetary allocation. 
Zillur also mentioned that the prevailing environment gives people a feeling that they would not get justice as the "perpetrators are not being punished."