Paturia-Daulatdia Route: Ferry crisis deals double blow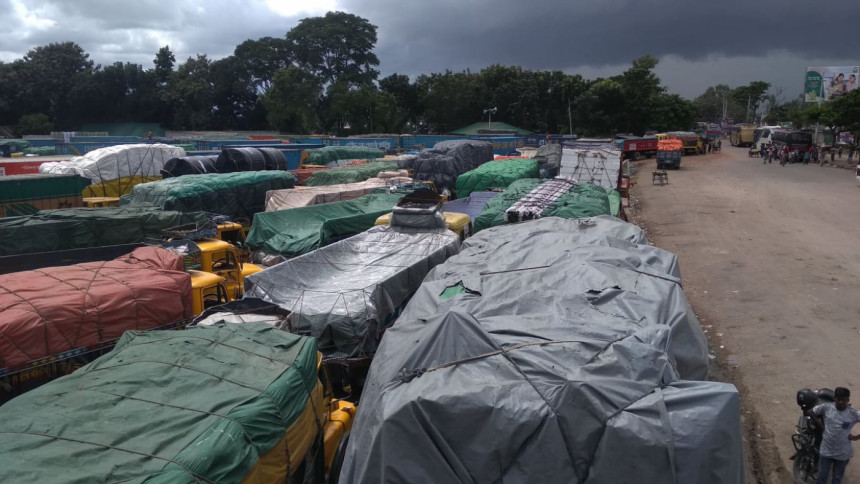 Ferry services on Paturia-Daulatdia route have been disrupted for the last three days due to shortage of vessels.
Truckers are the worst sufferers as they have to wait for hours to board ferries and cross the Padma.
Twelve out of 19 ferries are operating on the route now. Three are at Narayanganj dockyard for repairs and four others are anchored at the floating workshop near the Paturia ferry terminal as they have issues.
Usually, 14-15 ferries are in operation on the route, said Abdus Sattar, assistant general manager (marine) of Bangladesh Inland Water Transport Corporation (BIWTC) at Aricha regional office.
The ferry shortage makes the situation worse as there is a huge flow of vehicles on the route. Vehicles which would have used Shimulia-Kathalbari route are now crossing the river via the Paturia-Daulatdia route. Ferries are running on the Shimulia-Kathalbari route on a limited scale due to poor navigability.
Several hundreds goods-laden trucks are stranded at the Paturia end of Manikganj and the Daulatdia end of Rajbari as passenger, emergency and perishable goods-laden vehicles are getting priority to board ferries.
More than 300 trucks were seen stranded at two truck stands near the Paturia ferry terminal around 1:00pm yesterday and over 200 trucks were seen lined up on the Dhaka-Aricha highway at Uthli-Paturia intersection, about 6km away from the ferry terminal.
On the other side of the river at Daulatdia, more than 600 trucks were waiting to cross the Padma around 11:30am yesterday.
The trucks lined up on 6km stretch on the highway, around 13km away from the Daulatdia ferry terminal.
Truck driver Joynal stuck at the Daulatdia end said, "I came from Jessore and reached the Goalanda intersection yesterday [Monday] afternoon. I'm still here. I cannot say when I will get on a ferry."
Another trucker Saddam Hossain who came from Satkhira said he had been waiting to get on a ferry since Monday morning. His vehicle was stuck around 13km away from the ferry terminal.
Mohammad Selim heading for Jessore said, "I could only reach Paturia truck terminal on Monday afternoon after being stuck at Uthli intersection for a day. I did not get the ferry ticket until noon today [Tuesday]. I cannot even say when I will get it."
Trucker Sajib Hossain, who was going to Magura, said, "I have been stuck at Paturia for two days. I'm in a lot of trouble here."
Contacted, BIWTC official Abdus Sattar said there are 19 ferries on the Paturia-Daulatdia route. Of them, two large ferries "Bir Shrestha Matiur Rahman", "Bir Shrestha Ruhul Amin" and small ferry "Rajanigandha" have been sent to Narayanganj for repairs.
Four others are anchored at the floating workshop near the Paturia ferry terminal to fix problems, he said.
There is no navigability problem on the Paturia-Daulatdia route. Efforts are being made to reduce the people's sufferings, he said, adding, "We are trying to bring some ferries from the Shimulia-Kathalbari route to make the service normal."