Pandemic pushed them below the line
New poor created amid outbreak largely from informal urban service sector, including small entrepreneurs and unemployed daily-rated workers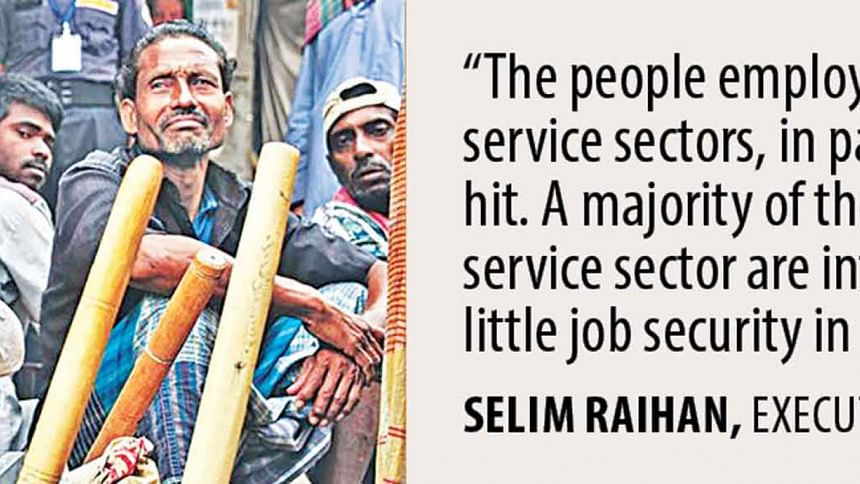 A 40-year-old woman was sitting in a shared kitchen in Korail Bosti, where a pan of catfish stewed away on the stove. But it wasn't hers -- it was her neighbour's lunch.
Her lunch comprised nine potato wedges, a small pile of coriander, and half a saucepan of thin yellow water -- supposedly daal. This was for four people -- husband, wife, and their two daughters, one of whom is autistic.
Looking at her neighbour's lunch, Rahima said, "We used to eat quite a lot of fish before. Now we haven't had fish in many months."
Rahima had been working at a ready-made garments factory in Gulshan since 1996, as a senior sewing machine operator. Last year when the pandemic hit, her employers decided to dispense of her services.
"The factory moved to Uttara and they were providing transport for a while. But then during the lockdown, the factory completely closed down. When it opened, those of us needing transport were not taken back," she said.
Her husband, a daily-rated construction worker, had no work at all during the shutdown. Even now when the economy has been open for many months, he only gets around 10 days of work each month, earning Tk 500 a day.
Her neighbours did not lose their jobs and eat fish for lunch while Rahima is unemployed and will have to share nine potato wedges among four people -- this, in a nutshell, speaks to the kind of destitution faced by those who became unemployed during the pandemic.
Last month, a study by think-tank South Asian Network on Economic Modelling (SANEM) found that the poverty rate has doubled in two years.
The organisation interviewed 5,577 households countrywide last year, and found that 42 percent were below the poverty line. When the same group had been interviewed in 2018, the poverty rate was then 21.6 percent.
The poverty rate has not been this high in the last 15 years, data from the Bangladesh Bureau of Statistics shows. In 2005, the poverty rate was 40 percent, a little less than what it was in 2020.
The poverty line cutoff used by SANEM for Dhaka's urban population was those with less than Tk 3,295 per capita monthly expenditure.
Alarmingly, among the households who became the "new poor" -- 51.2 percent were from the service sector.
"The people employed in the urban service sectors, in particular, were badly hit. A majority of the jobs in the urban service sector are informal and there is little job security in these engagements," said Dr Selim Raihan, executive director of SANEM and a professor at Dhaka University's economics department.
SANEM's data shows that of those from the service sector who went crashing through the poverty line, small-business owners comprised the largest proportion -- 28.76 percent -- with the second largest chunk being drivers, who made up 19.73 percent of service-sector workers who lost their jobs.
This includes Abdus Sobhan who had a readymade clothes store in Mohakhali's Sattola slum.
Before the pandemic, he led a good life -- he made Tk 25,000 every month in profits, lived with his wife and teenage daughter in a room in the slum that cost Tk 3,600 a month, and bought beef a few times a month because it is his daughter's favourite.
In the Sattola slum, a family that could regularly afford a protein upwards of Tk 600 per kilogramme is a family that is doing well.
From earning Tk 25,000 a month, Sobhan's three-member family is now down to an income of Tk 3,000-Tk 4,000 per month, bringing them below the poverty line.
Sobhan's downfall was steep -- from eating beef one month to officially being poor.
"I have given up my room, sent my family to the village, and moved into a shared mess. Whatever I earn goes into food and lodging at the mess. I couldn't even send Tk 2,000 to my family in the last six months," said Sobhan.
"Initially I had been paying the store rent by selling the shop's things, but that too is finished. Now I have over four months in rent left."
To add salt to the wound, prior to the pandemic, he had accumulated Tk 1 lakh in loans.
"My future is dark. Nobody is loaning me money to buy capital. I can't get any more loans because I have no collateral to offer," Sobhan wept.
Of the new poor, day labourers made up 5.87 percent, rickshaw-pullers 4.67 percent, mechanics and delivery men 4.07 percent, tea sellers 3.77 percent, autorickshaw drivers 3.16 percent, and barbers comprised 2.26 percent.
Prior to the pandemic, Bashu Chandra Shil was the proud proprietor of Bhashantek Apurbo Gent's Parlor for the last seven years.
Each month, he counted Tk 35,000 in earnings and rented a small flat for Tk 12,000 per month for his wife and two children. His shop rent was Tk 5,000 a month.
During the shutdown last year, his barber's shop was completely closed. "Nobody wanted to get their hair cut for fear of coronavirus," said Shil, "but I had loans I needed to pay back and my lender was after me."
He had loaned Tk 50,000 at a 15 percent interest rate from the Bhashantek slum chairman's son, who is the local loan shark.
"I had not even been able to pay the rent for seven to eight months. In October, I was earning as little as Tk 50 a day," said Shil. This amounts to as little as Tk 1,500 a month to support his family of four.
Shil left Bhashantek slum in October last year. He is now working as a staff in a salon in a nearby satellite town and stays in a shared room, while his wife and kids took refuge in the village.
As the economy reopens, his daily earnings have risen to around Tk 200, but from being a successful proprietor, he nosedived to being a daily-rated employee.
SMALL BUSINESSES LEFT TO LANGUISH
Centre for Policy Dialogue (CPD) recently calculated an economic indicator called the "purchasing manager's index" (PMI), used to compare the performance of businesses across a time period.
They took into account new orders, output, business activities, employment, backlog of works and stocks of purchases to calculate the performance of small, medium and large industries separately. Senior Research Fellow Towfiqul Islam Khan presented CPD's findings on February 15.
"No sign of recovery of micro and small-scale enterprises is discernible even almost one year after the pandemic had first struck in Bangladesh," he said.
"Production may have increased but private and public investment has not."
The researchers pointed out what the residents of the slum are saying -- that the poor unemployed have not received adequate support.
"The small businesses, despite [the fact] that they are among the most affected sectors, haven't been adequately covered in the government's stimulus packages," said Dr Raihan of SANEM.
"The larger fraction of the stimulus package announced for the SMEs by the government remained unutilised as most of the small businesses are outside of the formal banking process and there was no alternative mechanism for them."
Back at the slums -- while these indices may mean nothing to their residents, they sure do feel it in their bones.
Thirty-nine-year-old Lipi Begum used to work as a cleaner for a real estate company. Her job was to scrub apartments following construction, and make them presentable for buyers. She also used to be a caretaker for some of their under-construction projects.
Last year, she lost this stable job which used to bring in Tk 9,000 a month. A single mom, Lipi lives with her mother and ninth-grader daughter in Mirpur's Chalantika slum.
Her daughter Khadija Akhter dropped out of school and got a job at a small clothing shop on January 1, but has not yet received a penny for her work.
Three years back, Lipi had taken loans worth Tk 2.5 lakh to erect six houses in the slum, and start her own tenancy business. With the money she was making from the rent, she managed to pay back Tk 1 lakh, but then a massive fire gutted the shanties in 2019. That still left her Tk 1.5 lakh in debt before the pandemic hit.
"The lenders have forgiven the interest but how do I pay back the loans?" lamented Lipi, grieving, as her dreams went up in smoke.