Menstrual Hygiene: A man steps forward
Male student to install sanitary pad vending machines on Chittagong University campus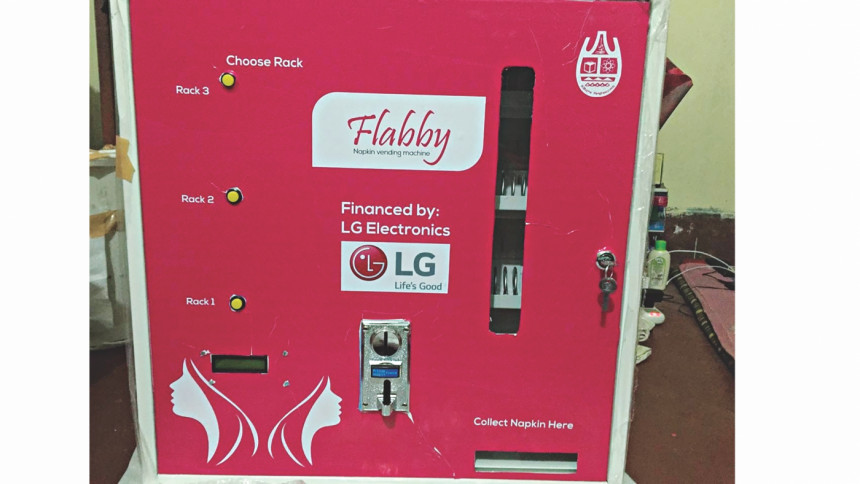 More often than not, we see only the change happening around us in the city. But sometimes, there are silent revolutions happening outside our own hub by people away from the limelight of capital. 
One such man, Tausif Ahmed Rabby, has taken the initiative to make menstrual hygiene more accessible for the girls of Chittagong University. 
While Dhaka University already installed sanitary napkin vending machines on its campus in December, Tausif's dreams are taking a little while longer to materialise even though he had thought of it back in October of last year. 
The CU student took the initiative to install eight sanitary napkin vending machines on campus in a bid to break the social taboo and make menstrual hygiene more accessible for around 10,000 female students of the university.
An MBA student, Tausif will be supervising the whole project, while a voluntary team of students will monitor, refill, and collect money from the vending machines as well as sort out any problems, if found.  
Assistant Professor Kamrul Hasan of the department will coordinate the project as an advisor.
Each pad will cost Tk five -- two times cheaper than the market price.  
Recalling the beginning of the initiative, Tausif said the idea came to him after he watched a Facebook video of these vending machines being installed in an Indian school. 
In October, Tausif submitted his idea to LG's Ambassador Programme 2019, a competition aimed at implementing solutions for different community issues. 
He won Tk 4.5 lakh as one of the best ideas. The money is now being used to set up the machines, which are being imported from India. 
"Any student can now get pads by inserting a Tk five coin in the machines," Tausif said, adding that students will get free pads for the first two weeks. He plans to supply free coins after the launch to know which brand of sanitary napkins is preferred by the female students. 
The installation of the vending machines will begin on February 18 and will be installed in the faculties of BBA, Arts and Humanities, Social Science, Science, Biological Science and Law. 
Apart from those faculties, a machine will be installed at the Institute of Forestry and Environmental Science and another at the dormitory of Sheikh Hasina. 
About the taboos surrounding menstruation, Tausif said, "Period related myths are still prevalent in our society. I believe the initiative will help to bust this taboo."
Appreciating the initiative, Hasina Islam, a third-year student of the mathematics department, said girls still feel shy and embarrassed when they go to pharmacies to purchase pads. 
"After buying them [pads], we literally keep a lookout and hide the pads as if we are purchasing something illegal," she said. 
Besides, due to high prices, most of the students cannot afford to buy pads and it would be much easier to purchase at Tk five, she added. 
"Despite menstruation being a phenomenon unique to girls, it has always been surrounded by taboos and myths that exclude women from many aspects of socio-cultural life. In our country, the topic has been taboo till date," said Ashrafi Nitu, general secretary of CU unit Chhatra Union. 
She urged the university authorities to clean the female toilets on a regular basis as hygiene is of utmost concern when a girl is on her period. 
Commending the initiative, Assistant Professor Saima Alam, of the communication and journalism department, said the initiative will help ensuring menstrual hygiene, adding that the authorities must also take necessary measure of proper disposal of the napkins 
CU Vice-Chancellor Professor Shireen Akhter said female students would be highly benefitted from the project.
"Pharmacies and shops are not available on our campus. When students need pads, they do not get it on time," she said, hoping that this much needed initiative will bring a light of hope for women all over the country. 
VC Shireen and Bangladesh LG's Managing Director DK Son are scheduled to inaugurate the project on February 18.