Malaysia Labour Market: 6 lakh Bangladeshis face deportation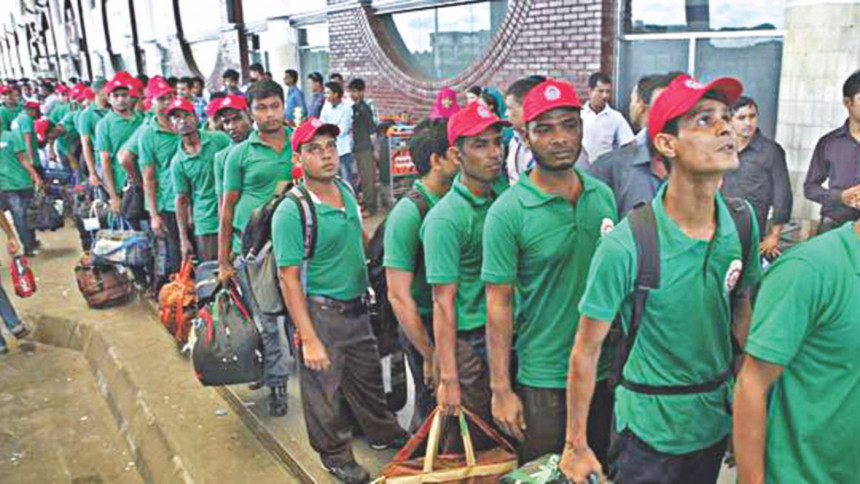 Over six lakh Bangladeshi workers in Malaysia may face deportation as the Southeast Asian country plans to reform its foreign workers sector, with an immediate step being the shutting down of its outsourcing companies by March 31.
The large pool of migrants -- around two lakh -- working under such companies, which hire foreign workers and supply them to others, will become undocumented following the move, experts said.
Meanwhile, as Malaysian officials are determined not to regularise any more workers, the fates of four lakh others remains in the air.
"Malaysia officials said they are not going for anymore legalisation. There are over six lakh irregular Bangladeshis in Malaysia, and they could be deported," Israfil Alam, Member of Parliament and chairman of Bangladesh National Parliamentarians' Caucus on Migration and Development, told this correspondent on March 24. 
He had just led a delegation to Malaysia to learn of the latest labour situation during meetings with Malaysian officials, lawyers and rights activists from March 7 to 8. 
There are some 10 lakh Bangladeshis working in Malaysia. Of them, around six lakh were irregular and had applied for regularisation during the more than two-year long rehiring programme from early 2016 to August 2018.
Of the six lakh, three lakh workers were legalised and the others were not due to problems with their paperwork, Israfil Alam said.
"Malaysian authorities are already detaining migrant workers. In the last three months, they have detained 3,164 Bangladeshis," said Israfil Alam.
"Malaysia needs workers. As the workers are already there and know local language and rules, the best solution would be arranging jobs under direct employers there."
He stressed on a high-level diplomatic move by Bangladesh to negotiate with Malaysia so that the irregular Bangladeshi migrants could be re-employed. This is important because they have already spent hefty sums to find jobs there, and their deportation would be tragic.
Meanwhile, thousands of Bangladeshis fell victim to fraudulent brokers, who promised legalisation and charged hefty sums, but then vanished, migrants and activists told The Daily Star.
They too cannot re-apply for regularisation.
Contacted, Joseph Paul Maliamauv, director of Tenaganita, a rights body in Kuala Lumpur, termed the Malaysia human resources ministry's latest moves "a serious injustice".
Almost all these workers would have incurred huge debts to pay the recruitment costs, he said.
"If they don't go home or are not deported in any case, they are condemned to a life of constant fear of being hunted down and arrested by immigration authorities, time in prison, whipping, detention and deportation and being blacklisted.
"Has the human resources ministry taken these factors into consideration when implementing the laudable policy of banning the services of outsourcing companies?"
OUTSOURCING COMPANIES TO GO
Rights activists said as Malaysia was closing its around 279 outsourcing agents by March 31, one to two lakh legal workers may become irregular as an immediate consequence. 
Shahidul Islam, Bangladesh high commissioner in Malaysia, however, said he received no official communication from the authorities on eliminating outsourcing companies, but said it was a good step.
He claimed no Bangladeshi worker was employed under any outsourcing company since 2016. Some Bangladeshis, who had come to Malaysia before 2016, might work under outsourcing companies, he told this correspondent on March 22.
On threats of deportation, Shahidul Islam said Malaysia regularly detains those violating immigration laws.
Migrant rights activists say outsourcing agencies have been plagued with criticisms from employers, trade unions and civil society organisations for exploiting workers.
They have also increased recruitment costs and contributed to the increasing number of undocumented migrant workers in Malaysia.
Nearly three lakh Bangladeshis were recruited since 2016, but the migration cost was as high as Tk 4 lakh, though as per the MoU signed in 2016, the cost was set at Tk 40,000.
Additionally, thousands of Bangladeshi migrants had to return home in 2008-09 following various forms of exploitation -- being confined to rooms, forced work and low wages -- by the outsourcing companies. 
The Mahathir Mohamad-led government then took reform initiatives, and one of them was eliminating outsourcing agents.
Experts believe eliminating such companies is a welcome move, but the consequences have not been addressed.
Sumitha Shaanthinni Kishna, director of migrant rights body, Our Journey, said the Malaysian home ministry gave 31 December, 2018 for the outsourcing companies to apply for changing employers so that the foreign workers working under them could be absorbed by the companies that directly employ and manage them.
Now the outsourcing agencies have until 31 March, 2019 to relocate the migrant workers or repatriate them to their home countries. 
"Unfortunately, not many employers were willing to absorb the workers directly into the companies as they would then be duty-bound to manage the migrant workers, provide accommodation and other basic amenities and meet other responsibilities that they were happy for outsourcing agencies to shoulder," Sumitha said in an email interview from Kuala Lumpur.
Further, companies without the required quota to employ migrant workers would also not be able to absorb the workers, which is another reason why companies resort to using services of outsourcing agencies.
Malaysian home ministry has made no provisions to address situations where the employers may not want or be able to absorb the workers into the companies, but decided that if the outsourced workers were not absorbed by direct companies, they would be treated as 'illegal' workers.
"It is unjust that these workers are being punished yet again in the government's pursuit to tackle the shortcomings of the outsourcing system," Sumitha said.
She urged the Malaysian home ministry to allow affected employers to absorb the workers without quota or for other employers who are in need of migrant workers to absorb them into their companies.
"While workers have the right to voluntarily return to their home countries, there should never be threats to deport workers," Sumitha said.
Contacted, Andy Hall, an independent labour rights expert working in Malaysia, said the employers who now outsource the undocumented migrants would discontinue it. Thus, they would end up being jobless.
"I am very worried about Bangladeshi cleaners and others who were victims of the rehiring or other syndicate scam. They are going to lose their jobs, be deported or run away. It means more debt bondage," he said.
Malaysia, which began labour recruitment from Bangladesh in 1992, had before suspended recruitment -- in 1997, 2009 and in 2018 -- following allegations of malpractices and labour exploitation.
The latest suspension of labour recruitment was in September last year following allegations of a monopoly formed by a syndicate of ten Bangladeshi recruiting agents and their Malaysian counterparts linked to former ruling party politicians of Malaysia.