Make sure no innocent harassed
PM tells Rab men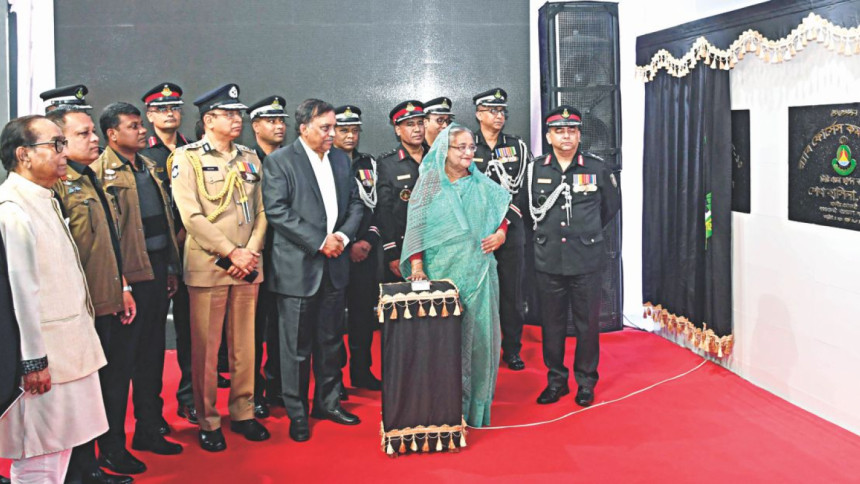 Stressing the importance of upholding human rights in enforcing laws, Prime Minister Sheikh Hasina yesterday asked the Rab members to be careful so that people are not unnecessarily harassed while taking actions against criminals.
"Actions will have to be taken against those who are truly involved in offences. But I request [you] to give special attention so that no innocent person is subjected to harassment," she said.
The PM gave the directive while addressing a function marking the 15th founding anniversary of Rapid Action Battalion (Rab) at its headquarters in the capital.
Sheikh Hasina asked the Rab members to be always careful about upholding human rights during enforcement of laws so that people can lead their normal life. "You'll have to keep human rights in mind while enforcing any law," she said.
The PM also directed the elite force members to take proper action against the criminals, no matter who they are.
Terming drug abuse a big problem in society, she reaffirmed her government's firm stance to continue the ongoing drive against drugs in the country.
Sheikh Hasina asked the authorities concerned to continue public awareness programmes alongside the anti-drug drive so that the young generation does not engage in drug abuse.
"The drive will continue against all involved in the smuggling, production, peddling or supply of drugs," she said.
Describing militancy a global problem, she said Bangladesh had gained a huge success in curbing militancy. "The success of law enforcement agencies in containing militancy is acclaimed throughout the world."
The prime minister thanked Rab for playing a significant role in curbing militancy and asked law enforcement agencies to create social awareness alongside intercepting the criminals so that no one gets engaged in crimes.
Focusing on the successes of Rab in different areas, the premier said public confidence and trust had been created in Rab members and people now respect the elite force.
She thanked the Rab members for making the Sundarbans free from forest robbers and pirates.
Hasina said if any robber or pirate wanted to return to normal life, the government would arrange his livelihood as it did for 328 members of 32 pirate gangs of the Sundarbans region, who laid down their weapons and returned to normal life.
"If those who are engaged in anti-social activities return to normal life, we will take adequate measures for ensuring their livelihood," she said.
Home Minister Asaduzzaman Khan also spoke on the occasion, while Rab Director General Benazir Ahmed delivered the welcome speech.