It's like Nazi camps
UN investigator on Rohingyas' living conditions in Myanmar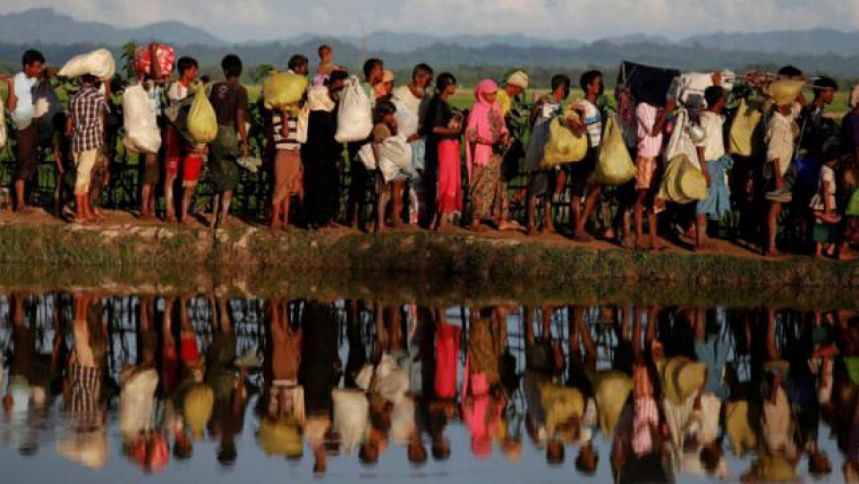 A UN investigator has likened Rohingya living conditions in Myanmar to the Nazi concentration camps that were used for torturing political opponents during the World War II in Europe.
Christopher Sidoti, a member of the UN fact-finding mission into crimes against the Rohingya that last year accused Myanmar's military of genocide, warned the crisis is far from over for the persecuted minority, reported The Guardian yesterday.
A keynote speaker at a conference on the Rohingya crisis at University College London on Thursday, he said 128,000 people forced from their homes by violence are now in camps in central Rakhine and urban ghettos.
Rohingya people remaining in Myanmar live in villages where their movements are severely curtailed and their rights to get married and have children are strictly controlled, he said.
"There are concentration camps -- let's call it what it is -- with 128,000 internally displaced people in central Rakhine, outside Sittwe," said Sidoti. "In Sittwe, there are three areas where Rohingya people live and they have become urban ghettos like those Jews lived in under Nazi-occupied Europe."
He added that the mass expulsions and shootings may have stopped and the military may have achieved their purpose, but the crisis is not over.
There are only an estimated 400,000 to 500,000 Rohingyas left in Myanmar, he said, compared with 2 or 3 million in 2012.
Over 741,000 Rohingyas fled military crackdown to Bangladesh since August 2017.
"We said a year ago there were circumstances to give rise to an inference of genocidal intent," Sidoti said.
"What has happened in the past two years has strengthened the genocidal intent. Villagers are still isolated, and their movement restricted; fishermen can't go to fish and kids can't go to school. They need written permission from the authorities to travel any distances, and permission to marry and have children.
You might need six different written approvals, from six different authorities, to go to hospital. The whole thing has been calculated to watch them fade away."
Sidoti said he expected the UN fact-finding mission's new report, which will be published in the next few months, to say that the inference of genocide has "strengthened".
His comments came at a time when the UN warned that civilians in Rakhine and Chin states may be suffering fresh war crimes and human rights violations as fighting between military and rebel groups like the Arakan Army have intensified in the recent weeks.
The fresh wave of violence resulted in more than 35,000 people fleeing their homes.
In an unprecedented move, the Myanmar military in June ordered a telecommunications blackout across eight townships in Rakhine state and one in neighbouring Chin state, cutting access to phones and internet, which is still in place. 
Human rights groups said the blackout was being used to cover up the abuses being carried out in the region.
Meanwhile, the Dutch House of Representatives, the lower house of parliament, on Thursday adopted a motion asking the government to investigate Myanmar's genocide against Rohingya Muslims, in order to pave the way to open a case in the International Court of Justice.
The resolution which requests the government to gather support of other countries to back the case was accepted by majority of votes, reported Turkish news agency, Anadolu Agency.