Govt curbing people's rights
Police being used to that end, allege rights activists; slam 'restriction' on free speech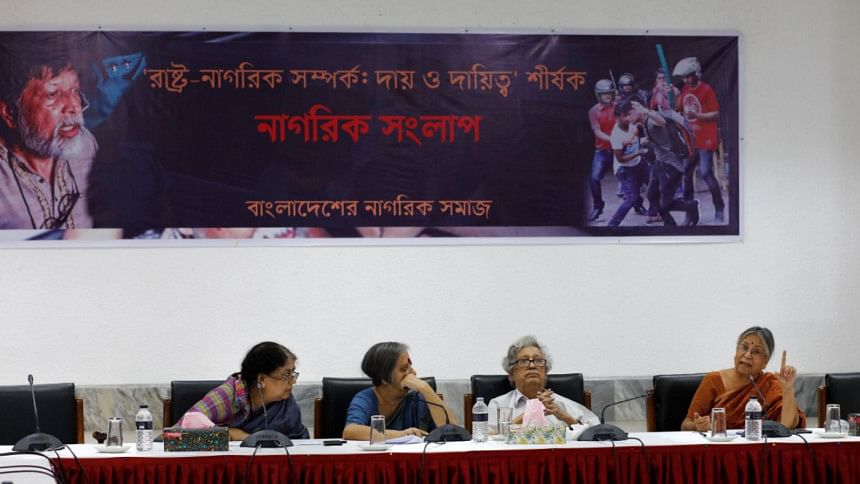 The government is using law enforcement agencies to frighten people and curb their rights, said rights activists at a dialogue in the capital yesterday.
They expressed concern over disappearances of people in which law enforcers were allegedly involved, and came down heavily on the government for "restricting" people's freedom of thought and expression.
Accusing law enforcement agencies of carrying out extrajudicial killings, they said the situation has become so horrendous that finding a loved one alive in police custody brings relief to the family concerned.
Shamsul Huda, executive director of Association for Land Reform and Development, presented a paper at the dialogue titled "State-Citizen Relationship: Liability and Responsibility" organised by Civil Society of Bangladesh at the Cirdap auditorium. 
He said, "Freedom of thought and freedom of expression are now being badly restricted in the country. Criticism of any special step taken arbitrarily by the government is labelled as anti-state.
"Whenever people become vocal against repression and discrimination by the government, they are labelled as conspirator," he said, adding that a democratic country cannot formulate laws to repress people.
Citing the case of 12 students produced before courts six days after they had allegedly been picked up by law enforcers, rights activist Sultana Kamal said, "We can understand the state of a country when people being alive in custody causes relief."  
"Such a situation prevailed during the Liberation War in 1971 when we became happy to know that our near and dearer ones were alive. Now, if the pro-liberation force drags us there, then I condemn them," she said.
"They cannot do this to us cashing in on a sacred thing like the Liberation War," she said.
Sultana said those who ascended to power calling themselves part of the pro-liberation force are moving away from their position and making ties with anti-liberation forces and fundamentalists.
On freedom of expression, she said, "Our every word and steps are being criminalised … are my writings, talking and movement crimes? where is freedom?"
Prof Gitiara Nasreen of mass communication and journalism department at Dhaka University said, "I now worry all the time about how others would interpret my speech. I have begun to distrust the person beside me and I wonder if sharing a thing will cause me trouble."
Prof Anu Muhammad of department of economics at Jahangirnagar University said law enforcement agencies have been given unfettered power which they arbitrarily use to detain people.
He suggested that people should not be afraid of such repression. "The more we become frightened, the more the government will be successful."
Shaheen Anam, executive director of Manusher Jonno Foundation (MJF), said people do not raise their voice against the government fearing it would be labelled "politically motivated".
She said the government only takes legal action against people who give opinions that go against the government.
Bangladesh Indigenous Peoples' Forum General Secretary Sanjeeb Drong said, "The repression began with the indigenous people after the independence and now the high-profile people of the capital are being repressed."
"If the government can treat a person like Shahidul Alam in such a manner, it can easily be inferred how brutally the government treats people in general," he said.
"Be it the Digital Security Act, police or Rab, these are not for serving the people, those are for frightening people," he said.
Human rights activist Hamida Hossain said the constitution guarantees right to life but the government could not ensure this. She suggested formation of "people's tribunal" where people would talk about their distress.
Prof Mesbah Kamal of history department at Dhaka University said, "I doubt whether the people in the government understand what spirit of the Liberation War means, but they use the term."
Baki Billah, a blogger, said when he was reading the digital security act, it felt like the people were the opposition and that the state was using the act to protect itself.
The speakers at the dialogue demanded release of noted photographer Shahidul Alam. His wife and rights activist Rehnuma Ahmed called on people to unite and free the country from repression and ensure human rights.
Rights activist Ajoy Roy, Shirin Haque, Imran H Sarkar, and journalist Mafuz Ullah also spoke.