A girl of indomitable spirit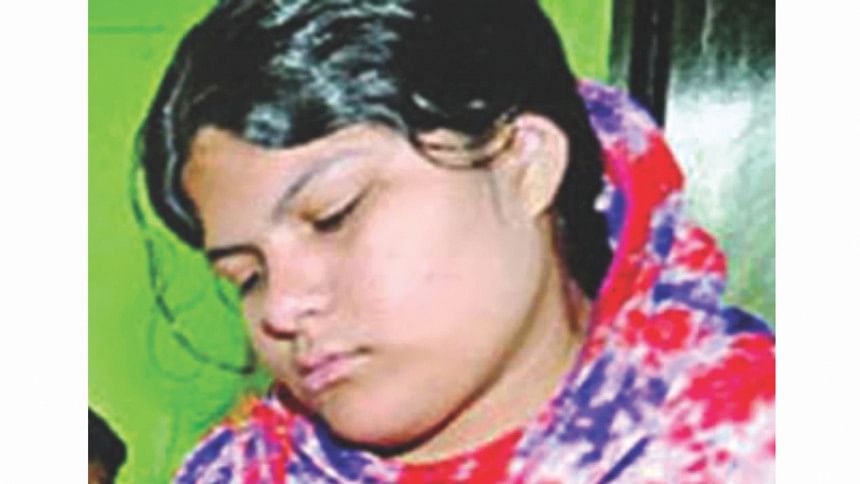 Although she was born without three limbs out of the four, her indomitable spirit to pursue education could not be hindered.
Tamanna Aktar, daughter of a madrasa teacher, was born without both arms and a right leg. She was not only an SSC examinee from Bakra JK High School in Jashore's Jhikargachha, Tamanna successfully secured a GPA-5.
When the results came out yesterday, the joy of her parents Rawshan Ali and Khadiza Parvin could not be contained.
"I cannot be happier," said an elated Rawshan.
He said his daughter had also secured GPA-5 in both her Primary Education Completion and Junior Secondary Certificate exams.
"She wants to be a civil service cadre," he said, adding that she initially dreamed to be a doctor.
"But I could make her understand that her physical limitations may not allow her to fulfill that dream as pursuing a medical sciences degree requires extensive practical work."
Rawshan said although his daughter is physically challenged, she has a sharp memory and is an attentive listener.
With this achievement, however, comes a new challenge – that of ensuring further education, he added.
"There is no standard college in the area. So, if Tamanna has to get enrolled in a quality college, she will be away from home and someone from the family will have to be with her," he said.
Recalling earlier days, Rawshan said he and Tamanna's mother had to face lot of social obstacles, as it was not easy to raise a physically challenged girl.
Tamanna was born on December 12, 2003.
When she started going to a local nursery, her mother would have to accompany her the whole time.
Growing up, her mother was the one to teach her how to use her only leg for necessary activities such as writing, use a spoon, or even tie or comb her hair, Rawshan said.
She was later taught to operate a wheelchair and uses one till now.
Rawshan said arranging finances was a challenge as Poalia Mahila Dakhil Madrasa, where he is a teacher, is yet to be an MPO-listed institution.
"And so, I have to rely on my income as a private tutor to run the family and raise my daughter and son."