She won't stop at anything
Badly hurt in road crash, girl sits SSC exam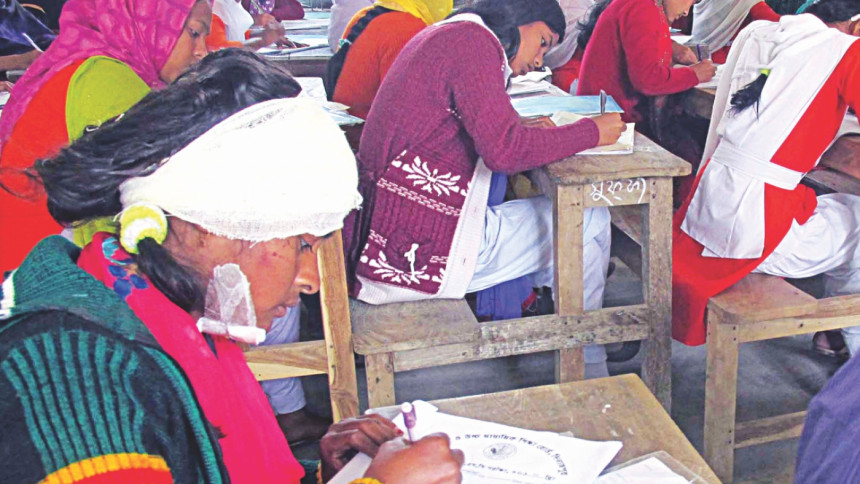 She was badly injured in a road crash on way to the exam hall, had nine stitches to her wounds and yet she refused to give up on her SSC exams.
Within around one and a half hours of the accident, the 15-year-old student of Binyakuri High School in Chirirbandar upazila sat the religious studies exam on Thursday morning.
Ismat Ara along with her father left her Dakkhin Nagar village home in the upazila on a bicycle around 9:15am for the exam centre at Chirirbandar Govt Girls School.
When they reached near the Fire Service and Civil Defence Station in the upazila, a speeding bus hit the bicycle from behind, leaving the two injured.
Morshedur Rahman, headmaster of Beltoli Girls School in the upazila, with the help of locals rushed the wounded to Chirirbandar Upazila Health Complex, but doctors referred Ismat to Dinajpur Medical College Hospital as her wounds were serious.
The girl needed six stitches in head and three around chin. Although she was not fit to be discharged, doctors released her as she insisted on taking the exam, said hospital sources.
Physicians, said Morshedur, decided to release her as they were impressed by her strong determination.
Ismat said she reached the exam centre around 10:50am and started on the exam within just 10 minutes. She finished writing all the answers in the remaining two hours.
Mahtab Uddin, centre secretary at Chirirbandar Govt Girls School, said the examinee was allowed to sit the exam at 11:00am upon a request from Upazila Nirbahi Officer Firoz Mahmud.
 Ismat said her father, day labourer Ekramul Haque, was struggling to bear her educational expenses.
"I can feel the pain of my wounds, but it would be more painful for my parents if I fail to sit the exams," she added.
Yesterday, she was undergoing treatment at the upazila health complex. However, her father was back home.
She was optimistic about being able to take the seven remaining exams.