Getting a shot at a new life
Transgender people given 20 houses in Sirajganj under govt's Ashrayan-2 project on occasion of Mujib Borsho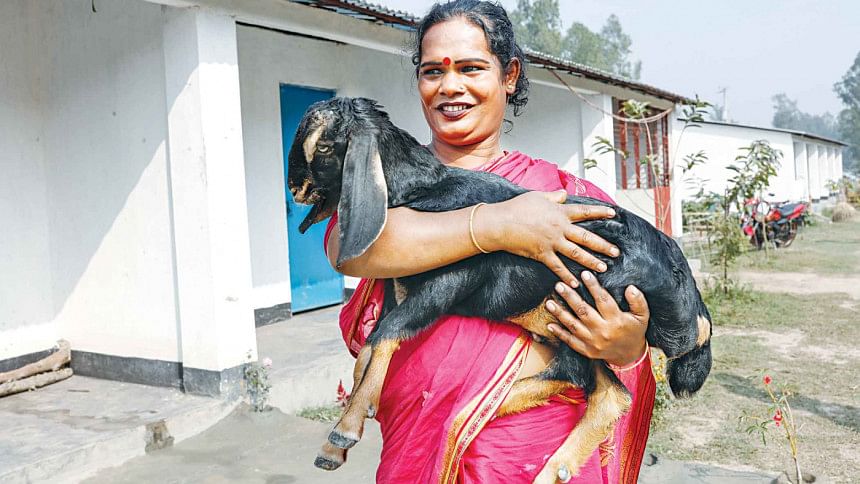 Before reaching her teen years, Borsha had to leave her parents' house.
The reason -- she was a transgender person.
Not being accepted in her own family and bullied in many ways by her peers, she realised she needed to choose a separate path.
Knowing that she does not belong to traditional society, she started seeking other transgenders at the local bazar in Sirajganj's Rayganj upazila and eventually joined the transgender community.
Not having any formal education only compounded her struggles.
"The life led by those in the transgender community is not a dignified one. I had to ask for money from local stalls every day, people didn't like transgender people; they used abusive words when addressing us. It was pathetic," said a tearful Borsha, who is now 35.
"We didn't have a good place to live. People didn't want to rent to us. It was difficult to find good shelter. We had to live by cramming inside small rooms," she said.
"But now, we have a dignified life and a home. I never thought this would happen," said Borsha, wiping her tears.
Marking Mujib Borsho, the Prime Minister's Office built 20 houses under the Ashrayan-2 Project for 50 transgender people like Borsha in Sirajganj's Dhopakandi area, which falls under Hatikumrul union in Ullapara upazila.
Similarly, 125 transgender people have also been rehabilitated in Sadar upazila of Dinajpur.
On a recent visit to the project in Sirajganj, this correspondent talked with the community members and the officials related to the project.
The houses have been built on 66 decimals of land in Sirajganj and as part of the project, the beneficiaries have been trained to rear domestic animals and to become beauticians. They are now rearing cows, goats and ducks. They have also planted vegetables like brinjal and beans on spare land adjacent to their houses.
Baha Moni, 35, has a story similar to Borsha's. She left her parents in Bogura when she was 10. She also received training to rear domestic animals, but also has the additional skill of sewing clothes which she learned from her elder sister. She now sews clothes for the community.
"I'm now happy that I don't have to beg anymore and this has given us a new life. Everyone wants to live with dignity, and that is the same for transgender people," she said, adding that she hoped to sell some of the clothes she sewed.
Maya, 31, who is one of the chiefs of the community, feels the same. Hailing from Pabna, she had to leave her parents during her teenage years and was able to study only up to SSC level. She received training as a beautician and also to rear animals.
"The government gave us 10 cows for the community and we get 40-50 litres of milk every day and sell it. Besides, we planted vegetables to meet the daily food demand. We want to be independent and live like others. This initiative has given us that opportunity," she said.
According to the government, there are 11,000 transgender people in Bangladesh. They lack proper support and are neglected by society. Officials related to the project said this will give them hope and provide a better life.
Highlighting the government's achievement, Sirajganj Deputy Commissioner Farook Ahmed said, "To bring the transgender community into the mainstream, the government recognised them as third gender in 2013, issuing a gazette on January 26 [of that year]. Also, to educate the community the government arranged stipends in four layers [for primary education a transgender receives Tk 700 per month, Tk 800 for secondary, Tk 1,000 for higher secondary and Tk 1,200 for higher education].
"The Ashrayan project is also a part of bringing the transgender community into the mainstream," he added.
Regarding the initiative, Ashrayan's Project Director Mahbub Hossain (additional secretary) said, "The prime minister is providing houses to those who are landless and poor. The third gender community are also included in it. More houses will be built for them in the future."
The government's Ashrayan project was launched in 1997. Till December last year, some 3.2 lakh families, who had neither land nor houses, have been rehabilitated under the project. This project is now named Ashrayan-2.
As of June last year, a list of 8,85,622 families, who neither have their own land nor house, has been prepared from all over the country as part of a Mujib Borsho initiative.
On January 23, 2021, Prime Minister Sheikh Hasina inaugurated the handing over of houses to some 66,189 beneficiary families alongside rehabilitation of 3,715 in barracks via a video conferencing from the Gono Bhaban.