Forgotten torture comes to light
Video of man beaten in front of his children goes viral a year after as perpetrator arrested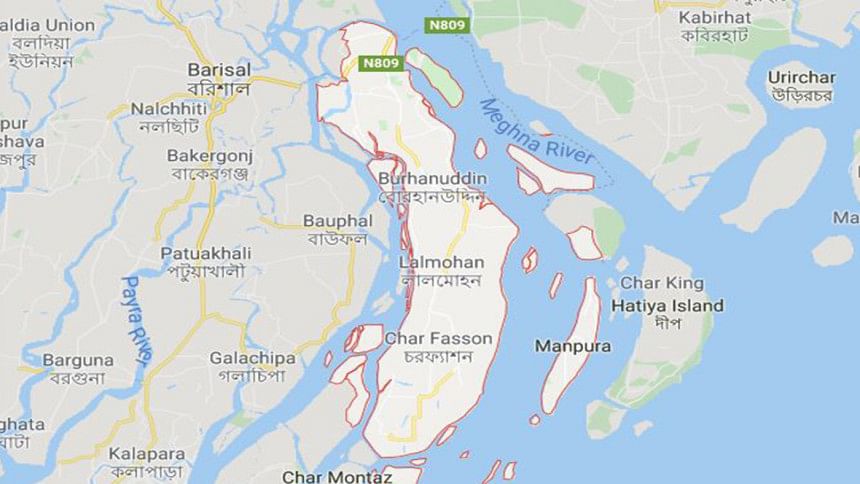 The video starts with one Hasan beating an elderly man -- whose hands and legs are tied and who is visibily unconscious -- with a wooden stick. Shouts can be heard off camera, which then pans to the victim's around 12-year-old daughter, who tries to come to her father's aid. "Younger women than you have been raped," Hasan says to her. At this, she backs away.
The camera turns to a crowd of people, watching the torture unfold. Then the beating continues.
Afterwards, the entire incident remains forgotten for a year.
The video taken from Dauri village in Bhola's Lalmohon upazila last year, went viral last night, hours after Hasan was arrested by Bhola police in a robbery case, local law enforcers said.
Following the arrest, the video began circulating on social media and it came to the police's attention. The law enforcers then went to the house of the victim, Md Jashim Uddin, 50, and a crime hidden by intimidation resurfaced once again. 
Mir Khairul Kabir, officer-in-charge of Lalmohon police station, said the attacker was identified to be Hasan,30, son of Abul Hossain of Kalmi village of the same upazila.
According to locals, Hasan is a muscleman of the local union chairman, with some claiming he was the chairman's 'right hand'.
The incident stemmed from when Hasan allegedly instructed Jashim, a known-BNP supporter, to peddle drugs in the area, but Jashim refused, locals said.
The beating was the cost of the refusal.
Even though there were hundreds of eyewitnesses, no one dared say anything about Hasan, who was always flanked by a number of goons. Even the victim's family did not dare file a complaint about the matter.
Only after police intervened last night, did Jashim's wife, Joynob Bibi, file a case with the police station yesterday, accusing Hasan ,30, Nagar, 27, Rubel, 25, and five to seven unnamed men in an attempt to murder case over the incident, police said.
Contacted, Chairman Akteruzzaman did not deny his links to Hasan. "Everyone in this union are my men," he said, adding that he had known of the incident but did not act as no complaints were filed.
He also tried to justify the beating, saying, "Hasan took revenge on Jashim, because he had beaten up Hasan's father in 2000. No one came to help because everyone knew of the matter."
Hasan was arrested early yesterday after a warrant for his arrest in a robbery case filed with Halishahor police station in Chattogram city reached the local police.
Hasan had also been accused in two other cases -- one for human trafficking and another for theft -- with Pahartoli police station of the same city.  
Afterwards, a court placed him on a seven-day remand.
Although Hasan is now behind bars, talk of his misdeeds remain muted. The intimidation he spread is yet to subside.
'HE WOULD KILL US IF WE CRIED FOR HELP'
According to a local who did not want to be named, the video footage only captured the end of the incident, which began in the area's Kanchi Bazar. That is where Hasan began beating up Jashim, before taking him to Hasan's "club" -- where he and his acquaintances would gather -- to torture him.
At no point did anyone intervene, as everyone was afraid of Hasan, he added. 
Jashim's family members were forbidden to take him to the hospital after the beating, Joynob Bibi, who initially refused to speak to this correspondent incase Hasan came to know of it, claimed.
"My husband was suddenly caught and beaten by Hasan and some of his men when he went to Daouri Bazar. On information, I rushed to the spot with my daughters. I found my husband bound by ropes and being beaten. I thought they had killed him," she said.
"Hasan threatened to kill me and my daughters if I went for help. He also threatened that my husband would be beaten till we stopped screaming.
"I treated my husband secretly by calling a village doctor at night," she said.
Hasan's men kept guard around Jashim's house, informed a neighbour wishing not to be named.
Joynob Bibi did not disclose the cause of the beating.
While locals and family members say Jashim was beaten for refusing to deal drugs in the area, Hasan maintains that there was a different reason.
"I tortured Jashim for attacking my father," Hasan told police while in custody.