Fog disrupts ferry services
Thousands suffer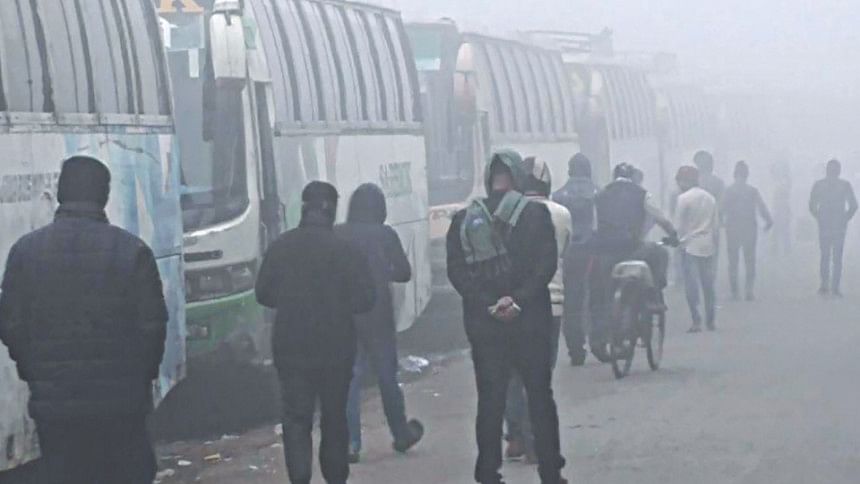 Several thousand passengers on Paturia-Daulatdia and Shimulia-Kathalbari ferry routes were stuck for several hours on both sides of the Padma due to dense fog yesterday.
Passengers, especially women and children, suffered badly due to the disruption in the chilly weather, which eventually resulted in traffic jams on both routes, report our correspondents.
Ferry services on Paturia-Daulatdia route remained suspended for three hours from early morning.
Shafiqul Islam, manager of Bangladesh Inland Water Transport Corporation (BIWTC) at Daulatdia, said ferry operation on the route remained suspended since 6:00am.
Five ferries were forced to anchor in the middle of the river, while six remained stranded in each of the two points due to poor visibility, he added.
Around 150 vehicles were seen stuck in long queue at Paturia when the services resumed around 9:00am. Some 100 vehicles were also lined up on the Daulatdia side. It took another two hours to return the vehicle movement to normalcy.
Mahmud Hasan, who was heading to Magura from Dhaka, said it was not a new experience.
"We have been undergoing the sufferings for long, especially during the winter months, and now we have taken it for granted," he added.
"Being stuck in jam for hours is a misery. And it gets worse when there is no room for breastfeeding and the number of toilets for women is inadequate and not fit to be used," said another passenger Sohrab Hossain, who was going to Jhenidah with his family members.
Talking to The Daily Star, the passengers and staff of the stranded vehicles urged the government to construct a bridge over the river Padma between Paturia and Daulatdia points to reduce their hardship.
Meanwhile, ferry services were suspended on Shimulia-Kathalbari route for six hours since 4:00am.
Six ferries with more than a thousand passengers on board got stuck in the Padma for over six hours due to haze, while 10 other ferries were stuck on both the sides.
Besides, around 400 vehicles, mostly goods-laden trucks, covered van and small vehicles, were stranded due to suspension of ferry services, said Mehedi Hasan, terminal assistant at BIWTC's Shimulia Ferry Ghat.
Our Manikganj and Munshiganj correspondents contributed to the story.