Five killed in 'gunfights'with law enforcers
2 of them 'drug dealers'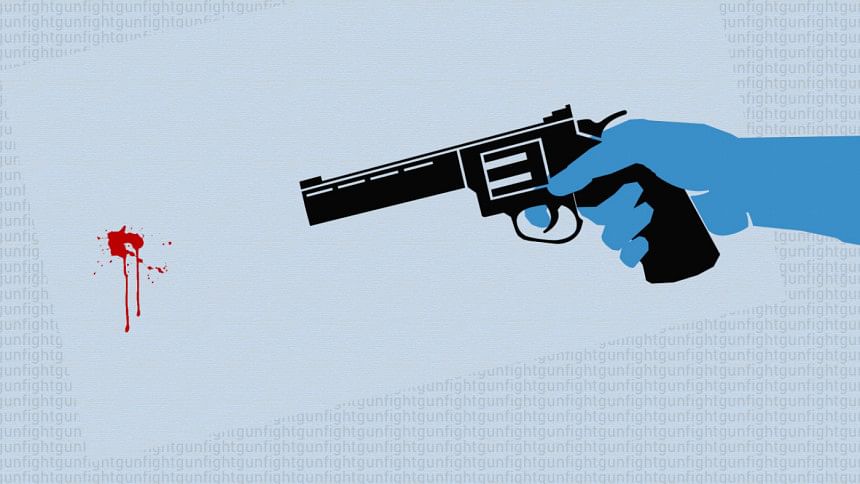 Five people, including two suspected Rohingya drug traders, were killed in separate "gunfights" with law enforcers in Cox's Bazar and the Sundarbans yesterday.
In Cox's Bazar, a "gunfight" between the alleged drug traders and police left two Rohingya men dead in Leda camp area of Teknaf around 2:00am.
The dead are Muhammad Alam, 35, of Nayapara refugee camp, and Muhammad Rafiq, 20, of Jadimura refugee camp, in the upazila.
Pradip Kumar Das, officer-in-charge of Teknaf Police Station, said Alam and Rafiq were detained by police at their respective camps on Sunday evening.
Based on their information, police, along with Alam and Rafiq, conducted a drive to recover yaba and firearms from the area. Sensing their presence, cohorts of the criminals began firing, forcing police to retaliate.
After the alleged gunfight, the criminals fled the scene. Police found Rafiq and Alam with bullet wounds and took them to Teknaf Upazila Health Complex where doctors declared them dead, the OC said.
Two sub-inspectors were also injured in the "gunfight", he added.
Police recovered 2,200 yaba pills, two locally made guns, seven bullets, and Tk 6.56 lakh cash from the spot.
In the Sundarbans, three robbery suspects were killed in a "gunfight" with Rapid Action Battalion (Rab) at Chandpai Range yesterday morning.
The dead are Panna Bahini chief Panna alias Rana, 28, Julhas, 32, and Kamruzzaman, 39, said Maj Md Shamim Sarder, company commander of Rab-6.
The "gunfight" took place in Khonta Kodail canal area near the Pashur River, where Rab conducted a raid around 6:00am, he said. The criminals tried to flee after opening fire on the Rab men, forcing the law enforcers to retaliate, he said.
After the "gunbattle" subsided, the three suspected robbers were found lying on the spot. They were declared dead after being taken to Mongla Upazila Health Complex, the officer said.
A pipe gun, a shooter gun, and four locally-made weapons were found at the scene.
(Our Cox's Bazar and Bagerhat correspondents contributed to the report.)