Essentials' prices hurting the already hurt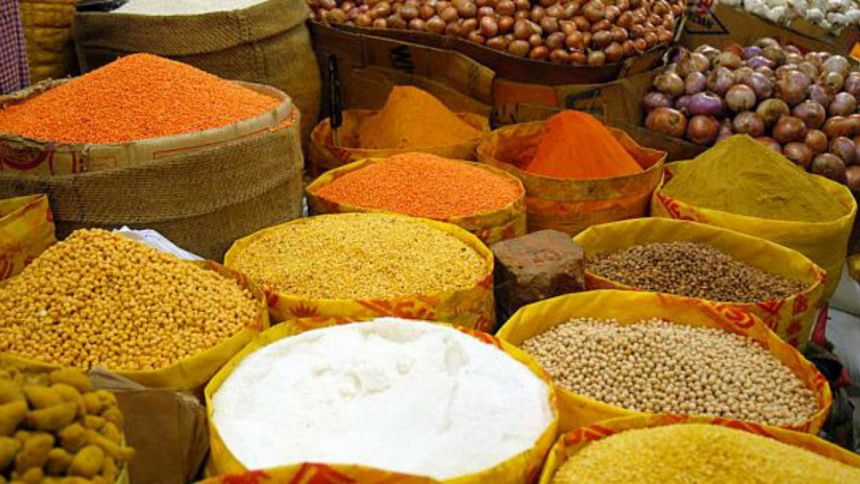 At a time when many are struggling to make ends meet due to coronavirus-induced economic meltdown, a recent rise in the prices of several daily essentials, including onion, has added insult to their injuries.
Although onion prices dropped by Tk 5 to Tk 7 at retail markets yesterday -- after a big jump last week -- high prices of other daily essentials, including vegetables and rice, are putting pressure on the consumers.
Meanwhile, the government yesterday decided to start selling onion through Trading Corporation of Bangladesh (TCB) "soon at a fair price".
A task force committee of the commerce ministry took the decision at a meeting yesterday.
"TCB will start selling onion through trucks and it will continue until the new onions arrive in the local markets," it said.
According to TCB price comparison chart, prices of coarse rice have increased by 2.27 percent, lentil by 2.86 percent, potato 7.14 percent, garlic 17.65 percent, ginger 21.05 percent and broiler 4.35 percent in the last week compared to the previous week.
Coarse rice was sold at Tk 46 per kg, lentil Tk 90, potato Tk 36, garlic Tk 90, imported ginger Tk 200 and broiler chicken Tk 110.
Of the other vegetables, brinjal was sold at Tk 75-80 per kg, green chilli at Tk 200-250, tomato at Tk 110-120, ladies finger at Tk 55-60, pointed gourd at Tk 65 and bitter gourd at Tk 75-80.
"How will we survive, if the prices keep rising?" asked Obaidul Islam,a former school teacher.
"It seems I'm trapped in a quicksand of debt. The more I'm trying to get over, the more I'm drowning," said Islam, who used to be a teacher of a kindergarten school, but is now running an online boutique shop after losing his job due to the pandemic.
Abdul Hai, manager of a clothing store in Bongabazar, engaged in a heated argument with a vegetable trader in Karwanbazar yesterday.
"We're not getting our salaries regularly whereas they [vegetable traders] continue to increase the prices," he told this correspondent.
Wahab Mia, the vegetable trader, said he had to buy at an increased rate from the wholesale market.
"I won't make a loss by selling vegetables," he added.
Production of agriculture, especially vegetables, has been hit hard due to the prolonged flood this year.
Prices of imported onion began to rise in the wholesale markets from August 20.
Data shows that the prices of per kg imported onion rose to Tk 25 on August 31 from Tk 20 on August 20.
During this period, the prices of onion in the retail market stood at Tk 40 from Tk 30.
Different varieties of local onion which remained almost stable in the first three weeks of August began to soar after the price hike of imported onion.
On Friday, prices of per kg local onion jumped to Tk 70 and imported onion to Tk 55 at retail markets in the capital. The wholesale prices of local and imported onion were Tk 64 and 44 respectively.
Narayan Saha, proprietor of Nobin Traders at Shyambazar Wholesale Market, said Indian onion meets most of the country's onion demand. "As the prices of onion shot up in India, the market has become unstable."
He, however, said that the onion prices won't be skyrocketed like the last year as "there is enough onion in the stock."
Mohammad Yousuf, director general of Department of Agriculture Marketing, said they held a meeting with the wholesalers.
"Due to heavy rainfall, onion prices have shot up to Rs 25 per kg in the Indian market.
"After import, when it reaches the wholesale shop, the cost stands at Tk 40," Yousuf said, quoting the traders.
"Today local onion is being sold at Tk 60-65 and imported one at Tk 48-50 at retail markets," said Yousuf.
Meanwhile, the government yesterday warned of taking stern action if anyone attempts to increase individual onion prices by hoarding it illegally "as there is no logical reason of price hike and supply crunch of onion."
The warning was issued by commerce ministry yesterday.