DUCSU Election 2019: BCL faces tough challenges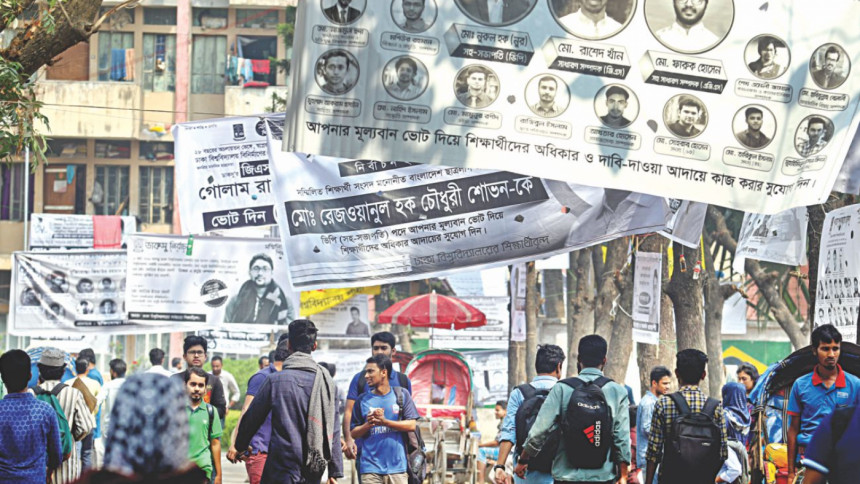 Candidates from Chhatra League for the posts of vice-president and general secretary are set to have a tight race with quota reformists and other student leaders in Monday's Ducsu polls, say campus sources.
All the contenders are campaigning in full swing and trying to woo voters with their pledges of making the Dhaka University campus a better place.  
BCL President Rezwanul Haque Chowdhury Shovon is vying for the VP position while General Secretary Golam Rabbani for the GS post.
Shovon has been active in BCL politics since his college days. Apart from having a reputation for being an active student leader, he is also known for his stance against violence on the campus.
Rabbani often engages in humanitarian work, including blood donation, and has authored five books -- one with the title "Bhalobashi Chhatra League". He said if he won, he would work for the welfare of the students by solving seat crisis and ensuring good food in the dormitories.
Talking to The Daily Star, a number of voters praised the two BCL leaders for raising voice against the leak of DU Gha Unit entry test question papers last year.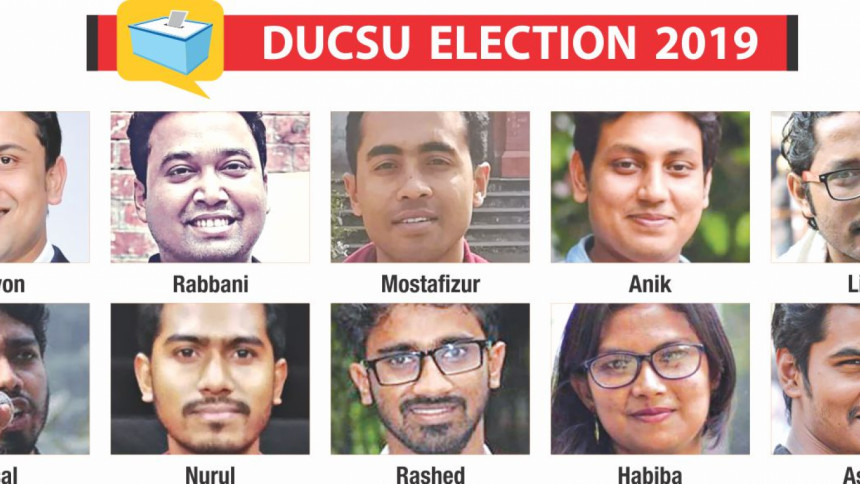 They said the leaders from the pro-Awami League student organisation appear to have a "comparatively cleaner image" than other BCL leaders.
However, many voters criticised the two for the BCL's role in the quota reforms and road safety movements.
"BCL activists beat up many protesters and we still cower away from them," said a master's student of English department, wishing not to be named.
Bangladesh Sadharan Chhatra Odhikar Sangrakkhan Parishad, the platform that spearheaded the quota reform movement, picked its joint conveners Nurul Haq Nuru and Rashed Khan as the VP and the GS contenders.
These leaders rose to the fame for steering the movement that sought reforms to the quota system in civil service jobs. In face of the demonstration, the government scrapped the system.
Nur said he believed their panel has a good chance of victory. "If I win, I will work to improve Dhaka University's political culture," he said.
Pro-BNP Jatiyatabadi Chhatra Dal's Mostafizur Rahman is running for the VP while Anisur Rahman Khandaker Anik for the GS.
"I was active in the quota reforms and road safety movements, in support of the general students" said Anik, who is the joint-convener of JCD in Shaheed Sergeant Zahurul Haque Hall.
Mostafizur said if voted to the VP post, he would work to ensure "freedom of speech" and stop "torture on students" on campus.
Progressive Leftist Alliance chose Liton Nandi as its VP contender and anti-Imperialist Students platform's coordinator Faisal Mahmud as the GS candidate.
Liton, general secretary of Bangladesh Chhatra Union's DU chapter, actively participated in the protests that called for punishment of those who sexually harassed women on DU campus during Pahela Baishakh celebrations in 2015.
"If all students cast their votes in a free and fair election, I think I have a good chance of winning," he told The Daily Star.
A faction of Chhatra Federation has come up with a separate panel and the organisation's DU unit president Umme Habiba Benojir is the GS candidate.
Habiba, one of the three female GS candidates, was a campaigner of Shikharthi Odhikar Mancha, a platform that conducted several movements in 2012 and 2013 demanding Ducsu election. She said she would especially work for ensuring women's rights. 
As many as 21 candidates are running for the VP post while 14 candidates for GS.
ARM Asifur Rahman is an independent candidate for VP.  He was elected president of the Dhaka University Journalists' Association (DUJA) twice.
Other VP candidates include Arani Semanti Khan, Abdullah Al Labib, Abdullah Ziyad, ADM Abbas-al-Qureshi, SM Ata-e-Rabbi, Omar Faruque, Noquibul Hasan, Fahmida Majid, Abdul Aleem, Golam Rasel, Tito Mollah, Naeem Hasan, Rakibul Islam, Russel Sheikh, Shofiqul Islam, Shihab Shahriar and Shofiq Sarker.
Other GS contenders include Jalal Ahmed, Mamun Fokir, Khondokar Mahmudul Hasan, Rashedul Islam, Shafika Rahman Shoily, Shafi Abdullah, Shahriar Rahman and Sanam Siddique.