District hospitals short on dengue detection kits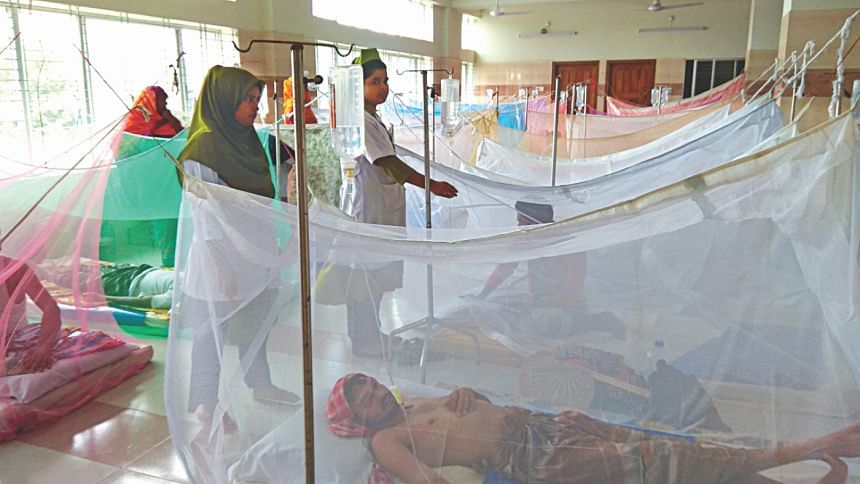 Public health professionals in several districts have demanded an urgent supply of dengue detection kits as they are struggling to deal with a surge of patients due to the kit shortage.
"Patient numbers are increasing day by day, but we don't have enough kits," said Bogura's civil surgeon Gausul Azam Chowdhury. "The government is supposed to provide the kits on an emergency basis," he added.
Partha Protim Debnath, assistant registrar of Khulna Medical College Hospital (KMCH), reported the same situation.
"The hospital bought 30 kits on Saturday, but it is insufficient. We have asked for 100 more kits from the civil surgeon's office. We have not had them till now," he said.
Contacted, Khulna's civil surgeon ASM Abdur Razzak acknowledge the scarcity and said the crisis would be solved within the next one week.
As the kits are in short supply, Sher-e-Bangla Medical College Hospital (SBMCH) in Barishal has limited dengue detection services to five hours daily.
"Dengue tests are available here from 9:00am to 2:00pm. After 2:00pm people have to go to private clinics for the test. We cannot provide the service round the clock due to the shortage of kits and manpower," said an official of SBMCH seeking anonymity. 
The divisional health director in Barishal, Dr Abdur Rahim, said they did not get the government-supplied kits till yesterday.
However, SBMCH director Dr Bakir Hossain said the Directorate General of Health Services (DGHS) has allocated 500 kits for the hospital, but they did not reach Barishal yet.
On August 1, while talking to journalists at the secretariat, Health and Family Welfare Minister Zahid Maleque claimed that there would be no crisis of the kits.
"A total of 50,000 kits were bought and 65,000 more will arrive soon," he said. "The Directorate General of Drug Administration has already approved the procurement of 500,000 kits. So, there'll be no shortage."
Meanwhile, doctors in different districts said most of their patients were infected after traveling to Dhaka. But there are some who did not visit the capital recently.
Nine-month-old baby boy Md Noman Hossain was infected recently and is taking treatment at Bogura Shaheed Ziaur Rahman Medical College Hospital.
His father Enamul Haque of Bogura Sadar upazila said, "None of us went to Dhaka in the last six months and none of our relatives came from there, but my son was infected."
The doctors fear that the disease might spread further during Eid-ul-Azha when holidaymakers from Dhaka would be visiting villages. 
Meanwhile, the SBMCH authorities are planning to open a separate ward for dengue patients if necessity arises, said its director Dr Bakir Hossain.
Up till now, 200 dengue patients have been identified in Bogura, 392 in Mymensingh, 279 in Kishoreganj, 466 in six districts of Barishal division, and 648 in 10 districts of Khulna division, report our correspondents.