Dhaka to seek strong US role for climate fund
Kerry flies in today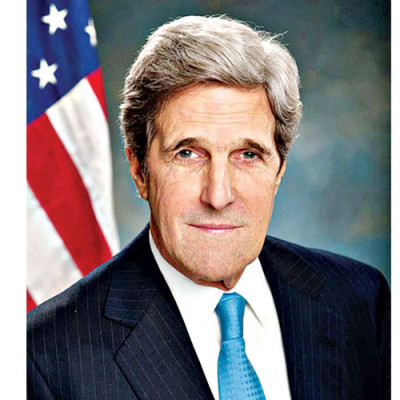 Bangladesh would seek strong US role in mobilising climate fund as pledged by developed countries for mitigation and adaptation as US Special Presidential Envoy for Climate Change John Kerry arrives in Dhaka today.
"As the new US administration has returned to the Paris Agreement, we would like the US playing a very strong role in mobilising climate fund and meeting the target of limiting the global temperature increase to 1.5 degrees Celsius," a foreign ministry official told The Daily Star yesterday.
Kerry, who is scheduled to arrive around 11:00am, will hold a meeting with Foreign Minister AK Abdul Momen and other officials concerned before calling on Prime Minister Sheikh Hasina.
He will hand over an invitation to the PM to attend the "Leaders' Summit on Climate" to be held on April 22-23. US President Joe Biden has invited 40 world leaders to the summit to be hosted by him.
Kerry will leave Dhaka for Washington in the evening.
Before coming to Dhaka, he also visited the UAE, a major producer of renewable energy, and India, a major greenhouse gas emitter, last week. He called on India to join hands with the US to confront the climate crisis through a clean energy transition and vowed to swiftly make up for America's "lost years" in the fight to protect the environment.
Climate analysts think the summit will be a key milestone on the road to the UN Climate Change Conference (COP26) this November in Glasgow.
Biden's return to the Paris Climate Agreement days after assuming office in January, after his predecessor Donald Trump's withdrawal, has brought new hope among scientists to fight climate change.
Late January this year, Kerry phoned Foreign Minister Momen and talked for nearly half an hour. Momen then expressed high hopes of strong collaboration between the two countries on climate issues. During his visit to Washington DC in late February, the minister held talks with Kerry.
Bangladesh, president of Climate Vulnerable Forum (CVF), a grouping of 48 countries, is one of most vulnerable countries to climate change. It hosts the regional office of the Global Centre on Adaptation.
As the president of the CVF, Bangladesh has been raising its voice for energy transition, net-zero carbon emissions by 2050, climate justice and climate-related adaptation and mitigation on different global platforms, say officials.
Climate analysts say the importance of Bangladesh has increased much because of its various initiatives on climate adaptation as well as for its leadership at the CVF.
Speaking to The Daily Star, a diplomatic source said, "John Kerry's visit to Dhaka to invite Prime Minister Sheikh Hasina means the US is giving importance to the role of Bangladesh."
In fact, he said, the US wants Bangladesh to play a leadership role in global negotiations.
"The issues of climate change will be eventually incorporated in all development and productive activities. How to transform that is going to be a very important issue. There will be a lot of issues of technology transfer and so on," the diplomatic source said.
How the two countries can work in multilateral or bilateral forums may also be discussed during his visit, he added.
Dr Sharif A Mukul, research assistant professor at the Department of Earth and Environment of Florida International University, said a momentum has been created following the US's return to Paris deal.
The developed countries made commitments to mobilise $100 billion annually for mitigation and adaptation programmes. Also, the Paris Climate Agreement aims to substantially reduce global greenhouse gas emissions in an effort to limit the global temperature increase in this century to 2 degrees Celsius above preindustrial levels, while pursuing the means to limit the increase to 1.5 degrees.
"One of the aspects for Bangladesh is to have more funding from the Green Climate Fund," Sharif said.
Bangladesh has so far secured $351 million from the Green Climate Fund.
Sometimes countries not so vulnerable to climate change secure more fund due to their political influence, the environmental expert said, adding that the most vulnerable countries like Bangladesh and the Maldives should get more fund.
A foreign ministry official said river erosion,which has rendered millions of people homeless, has long been a major problem for Bangladesh. "We will raise the issue and seek US support to tackle the challenge."
On mitigation aspect, reducing high dependence on fossil fuel will be an important issue.
"We will also seek US support for increasing the share of renewable energy -- call it finance or technology," the official said.