'Danger for democracy'
B Chy frustrated over low voter turnout in upazila polls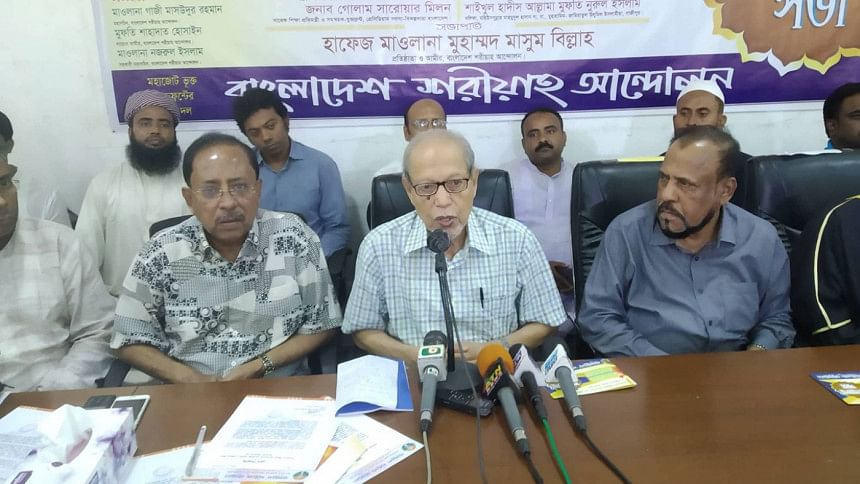 Expressing frustration over the poor voters' presence in many places during the upazila polls, Juktafront Chairman Prof AQM Badruddoza Chowdhury yesterday warned that the voters' apathy might put democracy in grave danger.
"The government must think why the upazila elections are not participatory ones. The presence of voters is also very thin in many places. The government will have to find out the reason behind it," he said.
Speaking at a discussion, Badruddoza, also president of Bikalpadhara Bangladesh, said, "I fear if the voters lose interest in elections, democracy will be in serious danger. Nothing can be more alarming than voters' apathy."
Bangladesh Sharia Andolan, one of the components of Juktafront, organised the programme at the Jatiya Press Club, marking the Independence Day and the organisation's second founding anniversary.
Badruddoza, also a former president, said political space for opposition parties must be ensured to make sure participatory elections and increase people's interest in voting.
"A good government which pursues Bangabandhu's dreams and ideals must think of creating scope for opposition to do politics. Opposition parties are there in all the democratic countries in the world. Democracy is incomplete without opposition parties."
It is the government's responsibility to create an atmosphere where opposition can do politics and participate in polls, he said.
Terming the upazila elections one-sided, the Juktafront chief said the credibility of the election could be put under question when it remained limited to a party. "If we believe in the existence of Bangabandhu, and his politics and dreams, we must free democracy for all."
He added that the politics of respect must be revived in the country, shunning the politics of hatred and vengeance.
About the recent killing of a university student in a road accident in the capital, Badruddoza said road accidents were growing due to carelessness among drivers and lack of enforcement of laws. "There're many laws in the country to ensure road safety, but those are not being enforced. It's a matter of shame."
He also urged the government to take effective steps to make the roads safe for commuters.
Juktafront was the polls ally of the Awami League in the December 30 election.