A classroom in a backpack
Over 70,000 people, including Rohingya children, have benefited from the Sputnique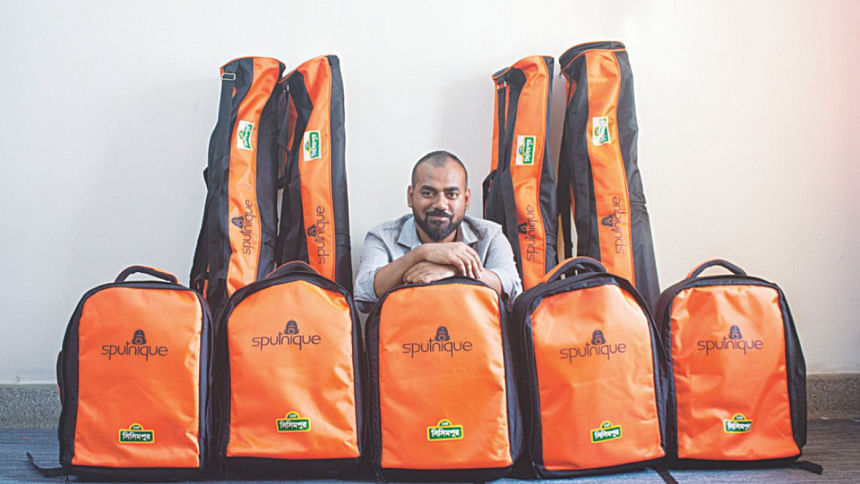 Orange backpacks, with the word "Sputnique" on them, made their way to different corners of the country. And somehow, everywhere these backpacks, each weighing about five kilograms, went, they brought significant benefit to those who were able to use them to their fullest potential.
But how much potential can one backpack have, one might ask.
To answer this question, "Light of Hope" made the ultimate solar power-run multimedia solution, ensuring learning through edutainment -- the Sputnique.
Sputnique is not simply a backpack. Inside it, one can find an LED projector, a sound box, USB hubs, a power bank, a microphone and a laptop -- everything one might need to hold a successful and entertaining class, training session or workshop, even in the absence of electricity.
Institution and organisations can buy the backpacks at the cost of Tk 1-2 lakh, depending on the equipment needed. 
With such facilities readily available in a single backpack, organisations and educational institutions can easily conduct multimedia based classes and sessions not only in regular classrooms but in areas that lack electrical support or in flood-affected zones where there is no power. Sputnique comes ready to give all-out technology based support to conduct classes in adverse situations.
An education start-up, "Light of Hope" was founded by Waliullah Bhuiyan, an EEE graduate from Islamic University of Technology, with an aim to bring significant progress to the country's education system through a sustainable business model.
Asked how and why he came up with Sputnique, Waliullah said when he went to Germany for his master's degree in energy and environmental management in 2013, he submitted a project titled "How to make multimedia classrooms with solar power in schools without power connection" in a global competition organised by Dell.
Bagging the third prize among 816 project applicants, he then began planning on how to use this project in Bangladesh.
Waliullah returned in 2014 equipped with his prize money and made multimedia classrooms in Chattogram's Swapnanagar School and Kishoreganj's Parashmoni Shikkha Academy, where there is no power connection. A few days in, Light of Hope then handed over laptops, projectors and other E-learning material to the authorities of both schools.
"The idea of how to place an entire multimedia classroom inside a backpack like Sputnique was executed in 2016 when Sisimpur, the Bangladeshi version of Sesame's Street, came to us with a project proposal, in which they wanted to reach school kids in remote areas with their awareness programme. But it was difficult to move through the narrow village roads with generators, projectors, laptops and sound boxes on rickshaw-vans," said Waliullah.
That is when Light of Hope took up the challenge and began designing these backpacks with a cause. "Everything in the backpack is powered by flexible solar panel," he said.
"The implementation of the project would have been impossible without the help of my team members -- Maruf, Soheb, Momel, Tripti and Taizul Islam Anik," Waliullah added.
After Sputnique was ready, Sisimpur bought 10 backpacks. "After that, we never had to look back," Waliullah said. So far, Light of Hope was able to sell 30 backpacks, bringing a change to thousands of lives.
"When we were working on our own project, we turned to Light of Hope to give us a viable solution to our problem. We wanted to take Sisimpur's content to Narsingdi's Raipur upazila, in 112 schools for children aged between three and eight. That is when Light of Hope came up with Sputnique. From the services of the backpack, we took the power back and the LED projector. The power bank provided us with back-up electricity for three hours, where as the projector's light was sufficient to carry out the projects successfully," said Gopal Kumar Dey, senior manager (programme, research and M&E), Sisimpur.
He further said that, with the help of Sputnique, their project helped benefit almost 40,000 people.
Sputnique's speciality lies in its ability to hold multimedia learning sessions with ease and at a lower cost. While it may be difficult and costly to carry projectors and other multimedia equipment to rural areas, Sputnique offers a viable alternative.
Waliullah said, "Trainers and teachers can conduct classes and sessions smoothly as Sputnique's power bank can provide back-up electricity for up to three to six hours."
Sputnique is already being used in projects in the slums of Rayerbazar by Save the Children and other projects run by various organisations. It has also travelled to the Rohingya Refugee Camps through Jaago Foundation, to support hundreds of children by providing a high-quality, engaging and educational environment, he said.
"We are trying to help traumatised Rohingya children recover by providing them with children's visual content. The screening of the contents, in a place like the camps where electricity in unavailable, would have been impossible for us without the services provided by Sputnique," said Mohammad Quamrul Kibria Ayon, Manager of Jaago Foundation.
Including 500 Rohingya children, over 70,000 people, especially children, have found a path towards better education and quality training through the invention of one simple backpack.