BIWTA salvage wing needs salvaging
With only 4 low-capacity ships, it struggles to recover sunken vessels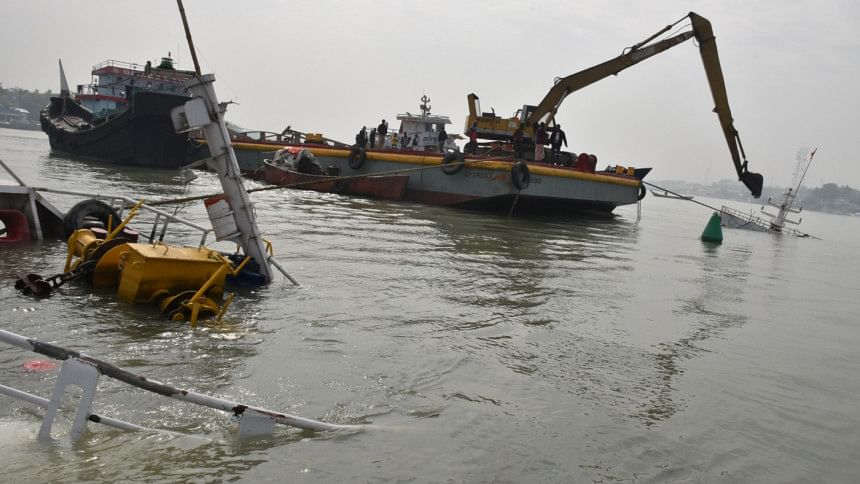 MV Dudu Mia-1, a clinker-loaded cargo vessel, sank in the Kirtonkhola river in Barishal on December 14 after a head-on collision with a passenger launch. It has not been salvaged yet.
Bangladesh Inland Water Transport Authority (BIWTA), armed with four rescue ships, including two older ones, desperately tried to pull the 2,000-tonne cargo vessel close to shore. The combined capacity of its four rescue ships is far less than the weight of the sunken vessel.
The BIWTA's rescue ships Hamza and Rustam, commissioned back in 1964 and 1983 respectively, have gradually lost their efficiency. Both have a lifting capacity of 60 tonnes each.
Bought from South Korea in 2013, the two new ships -- Nirbhik and Pratyay -- have a lifting capacity of 250 tonnes each, according to BIWTA officials.
"We tried to pull the cargo near the shore so that navigability along that route wasn't disturbed. But the cargo was too heavy to be moved," Md Rafiqul Islam, BIWTA joint director of rescue, told The Daily Star on December 26.
He also admitted that the BIWTA doesn't have the capacity to rescue a sunken vessel over 500 tonnes.
"Besides, it is not possible for us to take all four rescue vessels to the rescue site for various reasons. For example, when there is a narrow channel or navigability constraint," said Rafiqul.
Hamza and Rustam can operate in seven to eight-feet-deep water while Nirbhik and Pratyay require a depth of at least sixteen to twenty feet to operate.
MV Dudu Mia-1 is not the only bulk cargo vessel that sank this year.
MV Mamun Moni-1, while transporting clinker (used in the production of cement), sank in ​​the Kirtonkhola in Charbariya area on April 22.
On May 25, a sand-laden bulkhead MV Siam went down in Miyar char area in the Meghna river. On August 8, a fertiliser-loaded MV Taposhi and another goods-loaded cargo sank in the river in Gobindapur.
None of these has been salvaged by the BIWTA yet.
Starting on January 1, a private rescue operation is currently underway to salvage MV Dudu Mia-1 after the BIWTA failed with Nirbhik. PS Salvage, the rescue company, said it would need at least 20 days to pull the vessel up.
In the meantime, the BIWTA rescue unit's failure to recover sunken water vessels is making naval routes across the country risky, especially where the river is narrow and during the dry season when navigability becomes poor, said experts.  
Some launch masters on the Dhaka-Barishal route said operating vessels down the Kirtonkhola has turned riskier due to these yet-to-be salvaged sunken cargo vessels.
"A fatal accident may occur at any time if the cargo is not removed from the spot. It is very difficult for us to navigate, especially during this ongoing foggy weather," said Jahangir Hossain, the master of Parabat Launch.
"We have to slowly navigate through narrow spaces due to sunken cargo and submerged chars which consume an additional couple of hours to reach the destination," said a visibly concerned Jahangir.
'FOR SHOW'
Abul Kalam Khan, owner of Kuakata-2 vessel, said, "The four rescue ships are not capable of pulling a cargo vessel or a passenger launch. The salvage effort has so far been for show rather than a serious effort."
Kalam also said large passenger launches (200-320 feet long) currently operating on routes between Dhaka and the southern and southwestern districts weigh about 1,000 to 1,500 tonnes each.
Saidur Rahman, owner of Sundarban Navigation Company and the central vice president of the Launch Owners Association, said, "Bangladesh Marine Transport Authority has approved the production and operation of vessels with carrying capacity of more than 3,000 tonnes. Unfortunately, it does not have the logistics to salvage launches or cargos of these approved size and weights."
Director of Surovi Shipping Lines Rezin ul Kabir, said, "Vessels with a capacity of more than 2,000 tonnes are transporting goods on various routes. But the authorities do not have the capacity to rescue these ships in the event of an accident". 
BIWTA officials, when contacted, acknowledged their weakness. 
"A decision has been made to purchase two rescue ships with the capacity of 1,500 and 2,000 tonnes to strengthen the rescue unit," said Md Shahjahan, director of conservancy and pilotage at the BIWTA.
A team of experts from Buet has been given the responsibility of conducting a preliminary survey and feasibility test. They are working on it. Soon after receiving their report, the process of purchasing two new rescue vessels will begin, added Shahjahan.
Prof Riaz Hasan Khondokar, a member of the expert team, said they have submitted the report to the BIWTA on December 31.
Acknowledging their incapacity, BIWTA Chairman Commodore M Mahbub-ul Islam said, "We are increasing our capacity. To do that we will buy two salvage vessels with 1,500 tonnes lifting capacity each."
"After that, we will also bring airbags to ease rescuing heavy vessels," he added.