BIWTA drive goes on
57 illegal structures along the Buriganga, Turag knocked down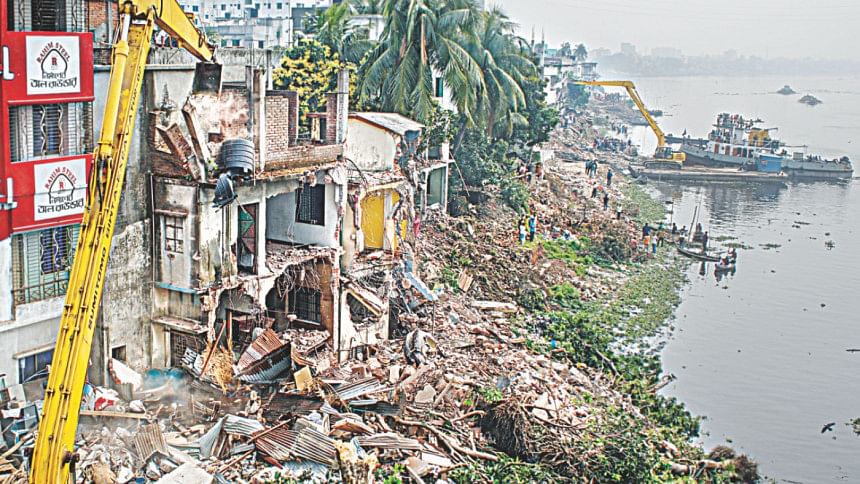 Bangladesh Inland Water Transport Authority (BIWTA) yesterday knocked down 57 illegal structures in Keraniganj's Madyachar and Basila as part of the ongoing drive against illegal establishments along the Buriganga and the Turag.
A team, led by BIWTA Deputy Director AKM Arif Uddin, demolished five three-storey buildings, four two-storey buildings, 19 one-storey buildings, 22 semi-concrete structures and 21 boundary walls during the drive that started around 9:00am and continued till 4:00pm.
A total of 10.5 acres of land were recovered from land grabbers during the drive, said Arif, adding that he would resume the drive at 9:00am today.
Earlier, the BIWTA had identified 906 illegal structures along the bank of Buriganga, stretching from Sadarghat to Gabtoli.
They started a 13-day drive on January 29 to free the river from encroachers and demolished 1,721 illegal structures.
Arif said they would continue the drive for 12 workdays under the second phase to free the Buriganga and the Turag from encroachers.
"We will not bow down to anybody and will demolish every illegal structure as we are getting the support from the administration, the judiciary and the people," he said.
Under a new project, the government is going to set up some 12,000 demarcation pillars along the rivers around the capital to protect them from encroachment.
Tenders will be floated soon and the work might start within the next three months. The government has already appointed a consultant to implement the Tk 850 crore project.
Under the scheme, the government will build some 50km walkways, plant trees along the walkways and set up three eco-parks at Shinnirtek, Tongi and Ashulia.