Bangladesh behind Nepal, Pakistan in smartphone use
Says GSMA report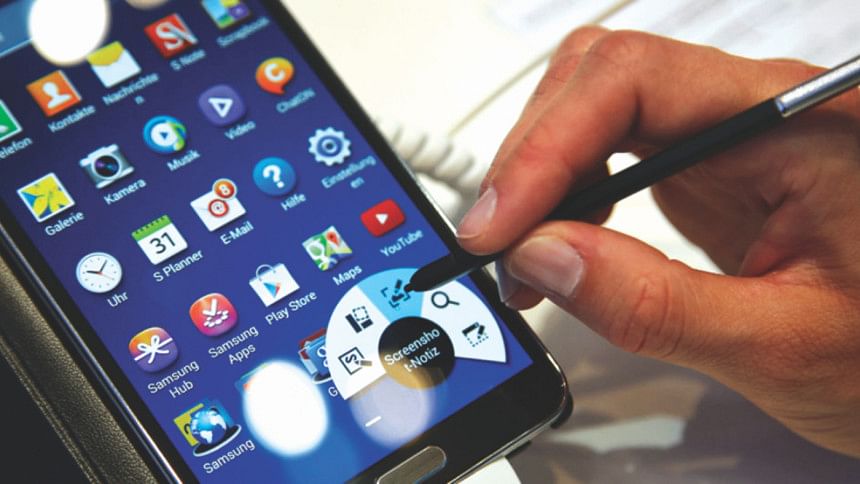 Bangladesh is lagging behind most of its South Asian peers in terms of smartphone use, according to a report of GSMA, which represents mobile operators worldwide.
The report, released yesterday, said 41 percent of mobile phone users had smartphones in Bangladesh.
India has the highest percentage of smartphone users, at 69 percent, followed by Sri Lanka with 60 percent, Nepal 53 percent and Pakistan 51 percent.
The report was unveiled at a virtual roundtable organised jointly by GSMA (Groupe Spécial Mobile Association) and the Association of Mobile Telecom Operators of Bangladesh (AMTOB).
The report, titled "Achieving mobile-enabled digital inclusion in Bangladesh", said 4G network now covered 95 per cent of the population. Yet, there was still a significant usage gap of 67 per cent as only 28 per cent of the population had 4G connections.
"This suggests a lag between 4G coverage rollout and usage of 4G services. This lag in usage is largely explained by issues related to the affordability of devices, low levels of knowledge and digital skills, a perceived lack of relevance, as well as safety and security concerns."
High sector-specific taxes, a fragmented licensing regime, as well as issues with the pricing and usage restrictions on spectrum have been identified as barriers to expanding coverage.
Bangladesh, however, fares better compared to Nepal and Sri Lanka in terms of 4G connections. Only 17 per cent of the population has 4G connections in Nepal, and 18 per cent in Sri Lanka, according to the report.
India has the highest 4G connections at 63 percent of the population followed by Pakistan.
Bangladesh has 17 crore mobile connections. Of them, nine crore are unique subscribers, giving a penetration rate of 54 percent as of December 2020.
Some 47 percent of subscribers use 2G connections and 25 per cent 3G connections.
The report said internet and digital technology played a key role in helping drive economic growth and societal development in Bangladesh.
Digital technologies, mobile in particular, will be crucial to implementing the government's 2041 Perspective Plan, achieving the Sustainable Development Goals, and recovering economically in the aftermath of the Covid-19 pandemic, the report said.