Bangladesh air worst in world
Says 2019 World Air Quality Report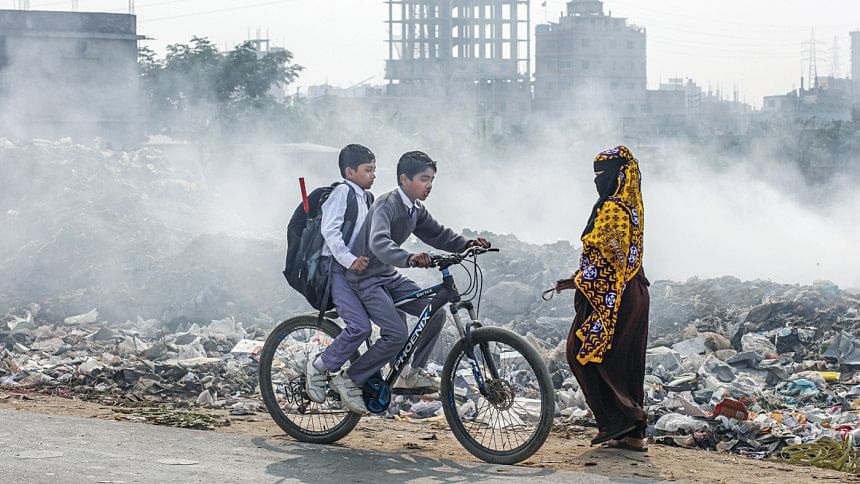 Air quality in Bangladesh was the worst in the world last year and Dhaka was the 21st most polluted city, according to 2019 World Air Quality Report.
However, Dhaka was second worst among capital cities.
"Using a weighted population average, Bangladesh emerges as the most polluted country, based on available data," said the report released yesterday.
Taking population into account, Bangladesh emerged as the country with the worst particulate matter (PM) 2.5 pollution, followed by Pakistan, Mongolia, Afghanistan and India, said the report jointly released by IQAir Group and Greenpeace.
It said the Bahamas, US Virgin Islands, Iceland, Finland, and Estonia were the top countries in terms of healthy air.
The report said air pollution would pose one of the biggest threats to human health, with 90 percent of the global population breathing unsafe air.
Bangladesh's air quality was the worst in the world also in 2018.
Speaking to The Daily Star on condition of anonymity, several officials of the Department of Environment yesterday said there was no doubt that air quality in Dhaka was bad. They, however, expressed doubt over terming Bangladesh's air the worst as air quality data was collected using only a few machine.
Particulate matter of 2.5 microns or less in diameter -- roughly 1/30 the width of a human hair -- is the most dangerous type of airborne pollution.
Microscopic flecks are small enough to enter the bloodstream via the respiratory system, leading to asthma, lung cancer and heart disease.
Among the world's megacities of 10 million or more people, the most PM 2.5 toxic in 2019 was the Indian capital New Delhi, followed by Dhaka.
Air pollution researcher Abdus Salam said IQAir collected data from a number of machines installed in and outside Dhaka. It also collected data from satellite.
"The data quality is good, but what is important is that those data should be validated with standard equipment," he told this newspaper.
Salam, also a professor of Dhaka University, said no data from any other organisation showed that the country's air quality was good.
According to Air Quality Index, air quality between 0 to 50 is healthy, 51 to 100 is moderate, 101 to 150 is unhealthy for sensitive groups, 151 to 200 is unhealthy, 201 to 300 is very unhealthy, and 301 to 500 is dangerous.
World Health Organization says air pollution causes an estimated seven million premature deaths a year globally, mainly as a result of increased mortality from cardiovascular diseases, cancer, and respiratory infections.
It is estimated that more than 80 percent people living in urban areas are exposed to air quality levels that exceed WHO guideline limits, with low- and middle-income countries most at risk.
The IQAir report said air pollution constituted to be the most pressing environmental health risk facing the global population.
The South Asian countries are of particular concern, with 27 of the world's 30 most polluted cities are in India, Pakistan and Bangladesh. The major population centres of New Delhi, Lahore, and Dhaka rank 5th, 12th and 21st respectively, according to IQAir report.
According to the report, air quality data shows clear indications that climate change can directly increase the risk of exposure to air pollution, through increased frequency and intensity of forest fires and sandstorms.