Amphan, a bolt from the blue
People of a char in Bhola had no clue the raging storm was coming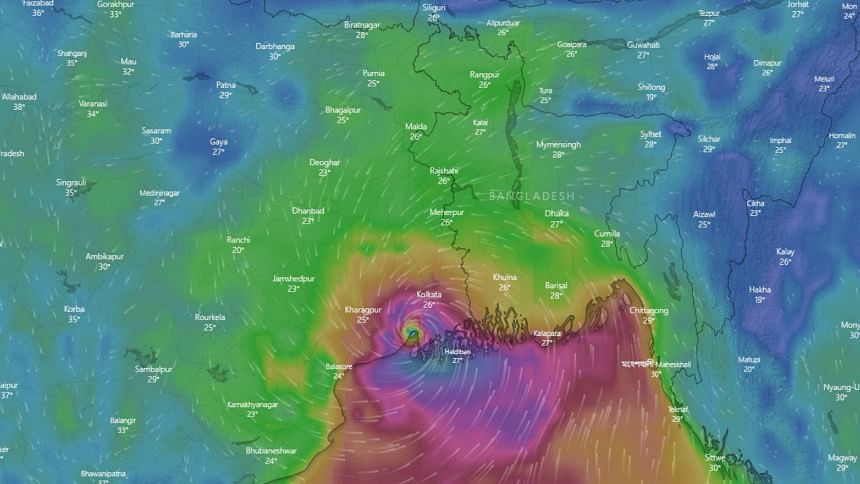 It's water, water everywhere. Strong current coupled by the fierce gales has inundated almost everything that can be seen through the eerie darkness.  Women and children have been huddled in a boat tied up with a tree in a nearby jungle with men straining every nerve to survive the perilous night by grasping something firm.
Such was the extent of uncertainty that some 1,000 people of Char Shajalal, around three and a half kilometre away from mainland Bhola, had been through for hours after the cyclone Amphan made landfall in the evening of Wednesday.
But thanks to their rock-solid resilience, the char dwellers apparently won against the calamity as no fatality was reported there until last night.
The char dwellers claimed that they were not informed about the cyclone. But it caught them off guard when the river Tetulia took a different look in the afternoon and it was already too late to move elsewhere.
"The water flowed so speedily that it inundated our home before we could take any preparation," said Nasim, a resident of the island.
"I was holding a tree for several hours and at one point it seemed that I might die. Now, I think none but Allah has protected us," he said.
Another survivor Shahidul said, "At first, we got panicked. Later, we thought that we will die if we lose our courage. So, we fought courageously against the nature that helped us to survive."
A female survivor Hanufa Begum was describing her terrible experience in the boat.
"The boat was overcrowded and was swaying dangerously due to the heavy waves. Every one of us was clutching each other's hand so that no one falls into the water," she said.
Many islanders were injured while some 120 houses were damaged due to the cyclone, said the survivors.
Later on yesterday morning, they were rescued by the local administration and taken to the mainland.
Talking to The Daily Star, some of them alleged that they were not served any food till 4:00pm yesterday.
Contacted, Lalmohon upazila nirbahi officer (UNO) Habibul Hasan Rumi said, "Earlier, I was not informed about the people of that particular island. I came to know about them on Wednesday night when a rescue operation was not possible. They were rescued the next morning."
Replying to a question regarding food, he said the people would be provided with food shortly.
Around 20,000 people remained confined to the 21 islands of Bhola, which is one of the worst victims of the cyclone.
Some 1,600 houses were partially damaged while 332 houses were completely damaged in the district. Crops and vegetables of around 5,000 hectares of land were damaged while many have lost their cattle, according to sources at district administration.