13 killed in road crashes
Six of a family killed in Cumilla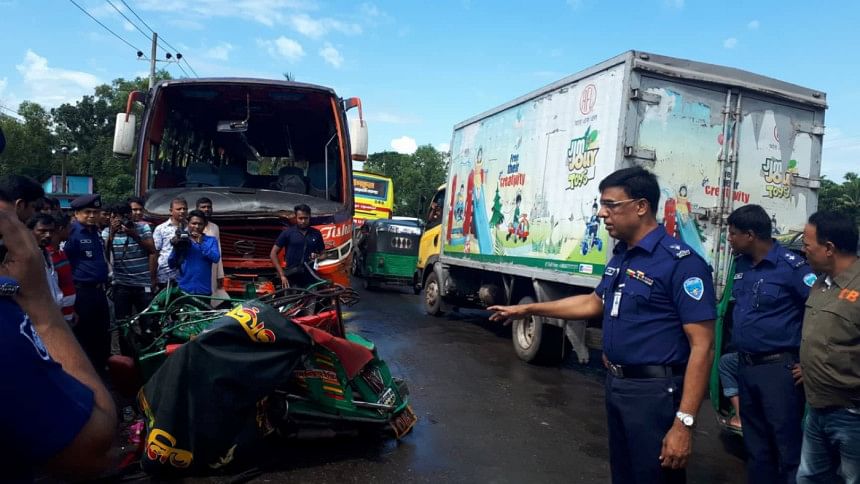 At least 13 people, including six of a family, were killed in five road accidents across the country yesterday.
Eight people were killed when a CNG-run autorickshaw collided head-on with a bus and was then hit again by a microbus in Jamtoli area on Cumilla-Laksham road around noon yesterday, police said.
Five of them died on the spot and three others succumbed to their injuries while being taken to Cumilla Medical College Hospital, said Abdullah Al Mamun, additional superintendent of police in Cumilla.
All the eight were the passengers of the autorickshaw and six of them from the same family.
Family members are Jashim Uddin, 45, his wife Selina Begum, 40, their sons Shipon, 21 and Ripon, 15, daughter Nipu Akter, 15, and Jashim's mother Sakina Begum, 70.
They were from Ghorarmaydan village of Cumilla's Nangalkot upazila.
Two other dead are auto rickshaw driver Jamal Hossain, 35, and Saimon, 15.
Only survivor of the incident nine-year-old Rifat, youngest son Jashim, was shifted to Dhaka Medical College Hospital as his condition turned critical.
Family member of the victims took all the bodies after finishing official procedures, said Badrul Alam Talukder, officer-in-charge of Lalmai Police Station.
In Chattogram, an elderly man was killed and nine others were injured in a collision between a private car and a three-wheeler autorickshaw, locally known as Mahindra, on Chattogram-Cox's Bazar Highway in Lohagara upazila yesterday morning.
The dead is Abdul Mannan, 64, said Ahsan Habib, officer-in-charge of Dohazari Highway Police Station.
Locals and Highway police personnel rescued the injured and sent them to Chattogram Medical College Hospital, the OC said, adding that police seized the two vehicles.
In Mymensingh, two people were killed and six others were injured in two road crashes on Mymensingh-Sherpur road in Phulpur upazila yesterday.
The victims are Rezia Khatun, 50, wife of Abdur Rashid from village Patilgaon in Phulpur, and Sayeem, 15, son of Dudu Mia from Sherpur's Nalitabari upazila.
In Gopalganj, a man was killed and two others were injured in a road accident in Kashiani upazila on Dhaka-Khulna Highway around 11:30am yesterday.
Ahasan Habib, 18, was son of late Abu Taher Sorif from Borasur village under Kashiani Upazila.
Quoting locals, Ataur Rahman, officer-in-charge of Bhanga Higaway Police Station, said, "The accident took place when a Dhaka-bound bus hit a motorbike at Dhushar bridge area. 
Three riders on the motorcycle got seriously injured and were taken to Gopalganj General Hospital where doctors declared Ahasan dead, the OC said.
Police seized the bus and detained the bus driver, added OC. 
In Noakhali, a college student was killed in an accident on JB road in Laxmipur town yesterday morning.
Ibrahim, 17, lost control of his motorcycle and hit a roadside ditch, said police.
Our correspondent from Cumilla, Mymensingh, Faridpur, Noakhali and a staff correspondent Chattogram contributed to the report