Nature Quest: Secret life of the Slow Loris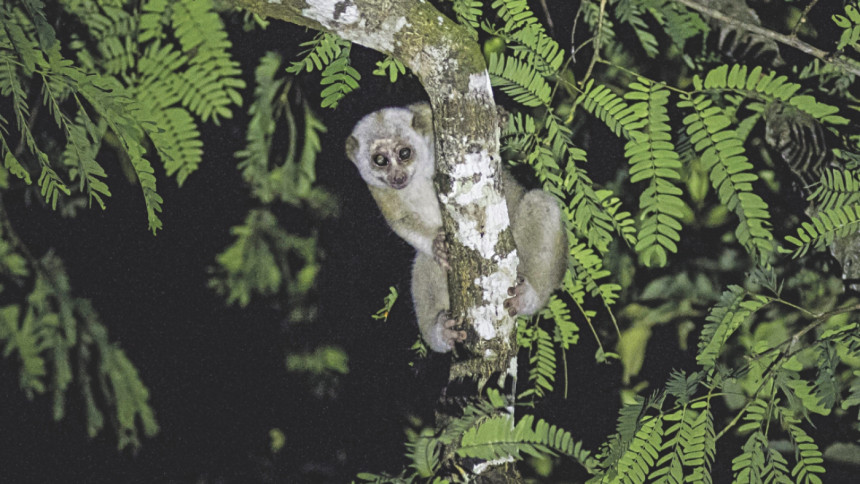 As the final light of the day hid behind the canopy, the first bat of the night unfolded its wings and the last bird of the day went to its roost. The forest floor had turned pitch-dark and night creatures that were in hiding all day emerged to break the silence.
When we walked into the forest, silhouettes of large trees stood against the blue sky and stars twinkled through the gaps of the evergreen forest. Soon after, the night dwellers confirmed their presence with piercing calls, yet managed to remain concealed.
At night, a known trail in the jungle that has witnessed my footprints a hundred times suddenly appeared strange and the trees remained the same but held a different form of life that is rarely seen by men.
Our objective was not ambiguous as our specific target was to sight the cryptic Slow Loris, which has never been studied in Bangladesh. It is one of the least known primates in the world. This globally vulnerable species has a trait rare among a mammal or a primate -- a serious toxic bite that is often used against predators. Mother Slow Loris is known to protect its infants by licking the toxin onto their fur.
With direct support from Sabir Bin Muzaffar (associate professor of the United Arab Emirates University), Hassan Al-Razi Chayan took up the challenge to learn more about this nocturnal species. But he and his team members -- Sabit and Shaikot -- developed a unique expertise of finding Slow Loris foraging amidst dense foliage at night and recording their behavior.
It is remarkable to think that such a rare species still occurs in out northeastern hill forests in incredible density. To spend night after night documenting their secret life has been a thrilling experience.
As we walked along the familiar yet mysterious trail, gusts of wind swooshed the canopy overhead and our flashlights chased each movement. An owl flew over the path and inaudibly disappeared into the darkness. After that, we waited in complete stillness for some time.
We continued to walk from one bend to another. At one point, Sabit whispered: "a flying squirrel!" A particolored flying squirrel glided downward to the other side of the trail. A sight that I would not trade in for any other view in the world!
Just when we were about to call it a night, Sabit asked us to check out a spot higher up in the branches and directed our eyes with his flashlight. We saw a furry animal moving gently amongst the green leaves and fungi infested stout branches. It was the stunning Slow Loris.
It continued to eat and did not bother to look at us, but when we started taking photographs, the sound of the shutters (we did not use camera flash, only relied on torchlights) grabbed its attention and the loris looked at us with its beautiful round eyes that glimmered like stars. It moved slowly but gracefully, hugging thick branches and constantly looking left or right and up or down to find its preferred feed.
I have seen Slow Loris in the wild during the day but only for a minute or less at Kaptai National Park. However, watching this phenomenal mammal in an upright position higher up in the canopy reaching out to grab a flying moth took my breath away! We did not speak to each other for hours as if we wanted nothing else in the world. We just wanted to be a part of the moment, in the elements of a Slow Loris.
The writer is a Conservation Biologist, currently working on threatened species conservation and research in Bangladesh and abroad.