Muktamoni, who caught nation's attention, dies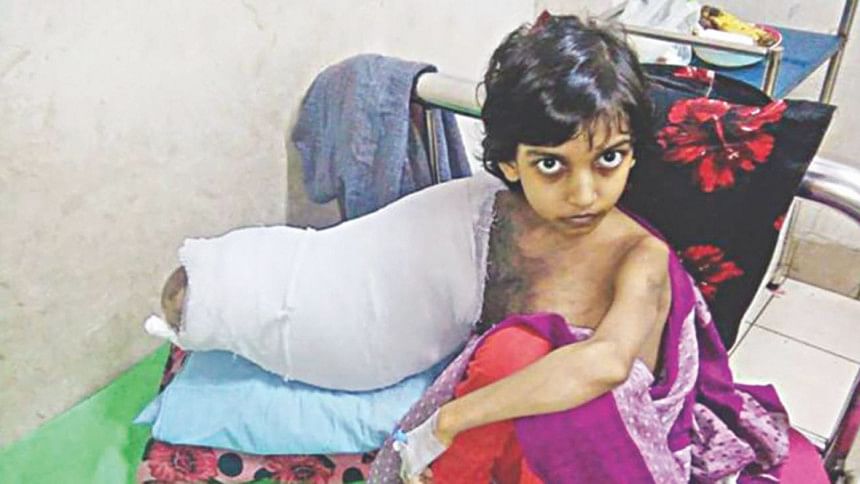 Thirteen-year-old Muktamoni died early yesterday in her home at Dakkhin Kamar Baisha of Satkhira.  She breathed her last around 7:50am with her family by her side, as she had wished.
The young girl's rare disease had captured the nation's attention when it was first reported.
She was under the observation of Dr Samanta Lal Sen, coordinator of the Burn and Plastic Surgery Unit of Dhaka Medical College Hospital (DMCH), where she was admitted for treatment from July 11 to December 22 last year.
She had requested her parents to take her back home from DMCH five months ago, while undergoing treatment for the tumours in the blood vessels of her right hand.
Back home, her condition began deteriorating, Muktamoni's father, Ibrahim Hossain, said.
However, neither of them was willing to go back to Dhaka. During the past few days, her right hand would bleed and her father would change the dressing every day.
As she was losing a lot of blood, Ibrahim thought of taking her to Satkhira Sadar Hospital for a blood transfusion yesterday, but he unfortunately did not get the time.
Later, as the situation worsened, Satkhira hospital's Resident Medical Officer, Farhad Jamil, was informed and he rushed to their house and confirmed the death.
Muktamoni was buried at her family graveyard after her janaza was held following the Zuhr prayers.
Ibrahim, a grocery shop owner, said his daughter had been sick since she was seven. He had her treated by a local doctor and then an Ayurvedic practitioner.
On August 12, doctors at DMCH removed a tumour weighing three-kilogrammes from her arm after a biopsy showed that it was in the artery of her hand. She later underwent three more surgeries consecutively.
Prime Minister Sheikh Hasina bore all the expenses of her treatment after her story was reported in the media.
Samanta Lal said he was saddened by the news of her death. "We tried our best to save her…. It was already too late when her father brought her here," he said.
"The infection and blood loss, along with infections on her lungs, led to her demise."
Ibrahim said his daughter told him yesterday morning that she was not feeling well.  "She wanted to drink some water. After being given some, she let out her last breath," he said.