Excise Duty on Bank Savings
Muhith comes under fire at JS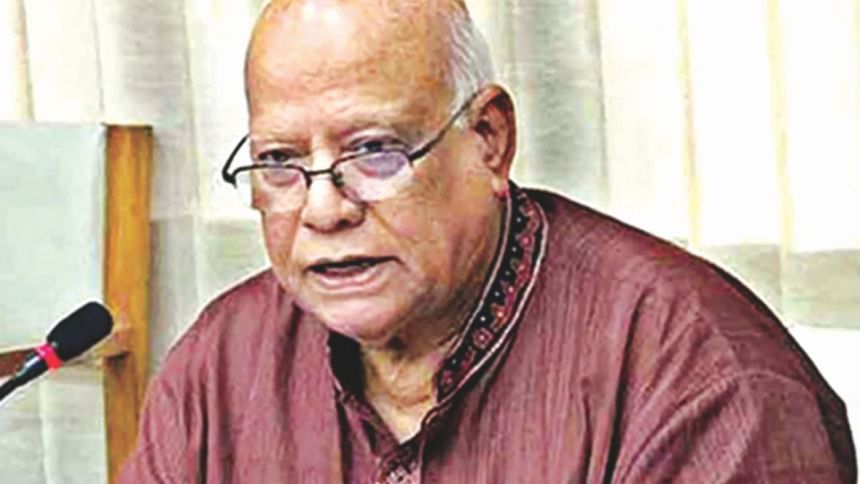 In a rare instance, several senior Awami League lawmakers came down heavily on Finance Minister AMA Muhith in parliament yesterday for his rigid stance against withdrawing the excise duty on bank accounts proposed for fiscal 2017-18.
Until now, banks have been cutting Tk 500 yearly excise duty from accounts with more than Tk 1 lakh but below Tk 10 lakh. Muhith in the budget for next fiscal beginning the next month proposed increasing the excise duty to Tk 800, triggering a storm of criticism among the public.
Participating in a discussion on the budget proposals, lawmakers also lambasted Muhith for the 15 percent uniform VAT rate that he sought to implement, and his failure to curb corruption and looting of banks.
The increased VAT and excise duty have worried people, they said, putting forward the demand that the finance minister scrap the excise duty and reduce VAT. 
Referring to the default loans and loan scams involving state banks, senior AL MPs said Muhith should recover the looted money instead of imposing increased VAT rate.  Muhith was present in parliament when the lawmakers gave their opinions on the proposed budget.
A senior AL lawmaker even called upon the Speaker to amend the constitution so that MPs can vote against the passing of a budget in parliament.
"Honourable Speaker, take measures to amend Article 70 so that MPs can vote against the budget. Then you will see that the finance minister will not be able to stay rigid in his position," AL MP Rafiqul Islam said.
According to Article 70, a person elected as a member of parliament with nomination from a political party shall vacate his seat if he resigns from that party or votes in parliament against that party.
"We just follow what the chief whip and other whips ask us to do during the passing of the budget. Otherwise, we don't have any role in the budget. The finance minister will have to evaluate lawmakers' suggestions regarding budget. Otherwise, the budget process [passing and implementation] will never become transparent to people," MP Rafiqul said, while delivering his speech on budget.
"We are bound to vote in favour of the budget. If this trend continues, we will not be able to establish democracy in real sense," he added.
MP Rafiqul pointed out that Tk 8,000-Tk 10,000 crore had been looted from banks. The finance minister should recover the looted money instead of increasing VAT, he said
He asked Muhith to scrap the proposed excise duty on bank accounts and not to cut interest rate on savings certificates.
AL MP Sheikh Fazlul Karim Selim said, "Finance minister once said Tk 4,000 crore was nothing when the money was looted from banks. But now he is saying Tk 1 lakh is good enough to have the excise duty imposed upon."
The politics of the ruling Awami league are for the betterment of people. "Scrap the proposal to increase excise duty. Otherwise, people will develop negative idea about the [ruling] party," he said.
The government would be able to collect only Tk 400 crore as excise duty but that would infuriate many people, AL MP Mahbubul Alam Hanif said.
Pointing to the siphoning of money from banks, he said Tk 1,000 crore was given to Basic bank.
"But whose money is this? They will loot money from banks and we will have to supply capital to banks!"
The government should immediately take action against those who are looting banks, Hanif said.
AL MP Abul Kalam Azad also raised the demand for scrapping the increased excise duty and urged Muhith not to lower the interest rate of savings certificates.
Savings certificate is a source of livelihood for senior citizens. "Do not take that away," he said.
"You [finance minister] are carrying the burden of loan defaulters. Failing to stop money laundering, you are putting the burden of excise duty on lower middle class," Azad said.