Miracle made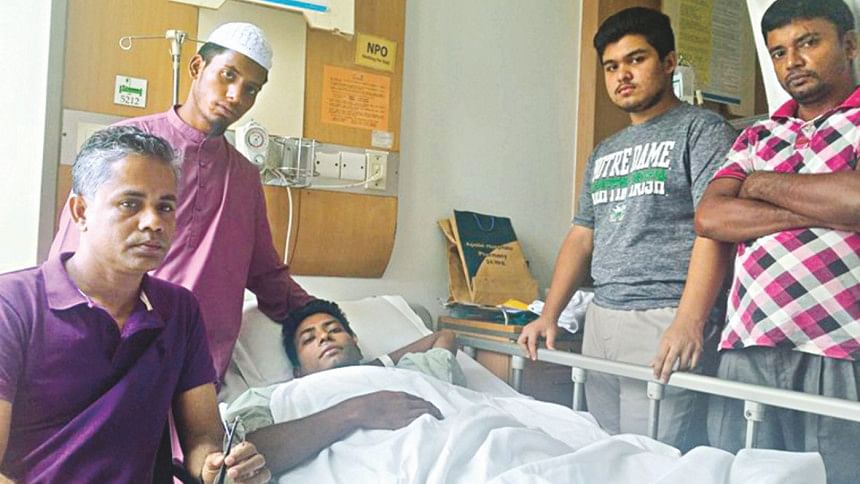 Had it not been detected that Mohammed Kamruzzaman had the rare Bombay blood group in the first place, it would have been very difficult to save him.
"Perhaps many patients had died earlier for the improper diagnosis of blood group," said Md OFG Kibria immediately after successfully conducting a surgery on Kamruzzaman at the Apollo Hospitals yesterday.
According to him, Kamruzzaman is the first person in Bangladesh with the Bombay blood group.
On May 21, Kamruzzaman, who works for Arinoba Plastic Industries Ltd, was injured in a traffic accident. He was travelling in a lorry with company goods when it had a head-on collision with another truck between Mirer Bazar and Kanchan Bridge on Dhaka Bypass Road.
A hand and a leg of the office executive were broken badly and his pelvis was displaced.
Kamruzzaman's colleagues SK Tuhinur Alam, who had been attending to him from the beginning, knocked the doors of several large hospitals in the capital but none could find out why they could not match his blood with another's.
The peculiarity of Bombay blood group is that they do not express the H antigen. As a result they cannot form A antigens or B antigens on their red blood cells. Thus they can donate blood to anybody with ABO grouping but can receive blood only from the Bombay blood group people, according to cure2children.org.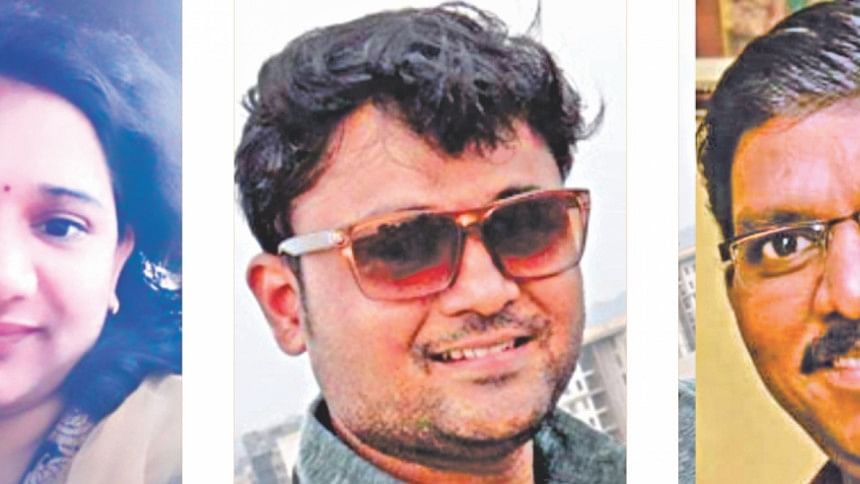 Tuhin, also a director of Arinoba, said Bangabandhu Sheikh Mujib Medical University later discovered that Kamruzzaman had the rare Bombay blood group.
"His haemoglobin level dropped to 5.6 [normal amount of hemoglobin ranges between 13.5 to 17.5 grams per deciliter]," Tuhin said, adding that they could not transfuse blood as no-one's blood was a match to his.
Coordinator and Specialists of Transfusion Medicine Department of Apollo Hospital Kazi Mumtaz Huda decided not to take unnecessary risks and wait for the blood to be found.
After discovering his blood group, a frantic online and offline search led Kamruzzaman's colleagues and the Arinoba, to Vinay Shetty of the Mumbai-based NGO Think Foundation.
Four pints of the rare "Bombay blood group" reached Dhaka from Mumbai on June 18 to save his life.
In India, where a robust blood distribution network exists, less than 400 people are known to have the Bombay blood group, a few of whom were traceable donors.
"After the transfusion of the first pint, he told me that 'sir I'm feeling well now'," said Hassan Zaman, managing director of K&H Associates and Arinoba.
Zaman gave all sorts of support, from financial to the import of the blood from India, to save his employee's life.
"I can't express my feelings. I want to see him in my office again," Zaman said after the surgery.
Doctor Kibria said the cast on his leg will be removed after three weeks. "After that, he will be able to walk again on crutch," he added.
Kamruzzaman, who is the fifth among six brothers, hails from Noakhali. His elder brother Masud Alam could not believe blood of four people from another country saved his brother's life.
"How would I ever repay my debt to them," he said.
Swapna Sawant, Krishnanand Kori, Mehul Bhelekar and Pravin Shinde had donated the blood to save Kamruzzaman.