Minister raps Biman high-ups for losses
A national crisis management team and combined emergency response plan should be in place for handling aircraft accidents like the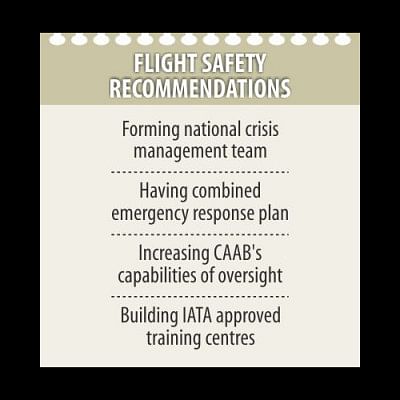 A national crisis management team and combined emergency response plan should be in place for handling aircraft accidents like the US-Bangla plane crash, aviation experts said yesterday.
The US-Bangla plane crash in Nepal is a wake-up call, and the capabilities of the country's civil aviation authorities to oversee the operation of airlines companies should be increased, they added.
The recommendations came at a roundtable on "Flight Safety: The Way Forward", organised by Aviation and Tourism Journalists' Forum of Bangladesh at a city hotel.
Addressing the event, Civil Aviation Minister AKM Shahjahan Kamal blamed top Biman Bangladesh Airlines officials for incurring losses over the years.
The minister also slammed the Biman management, referring to the allegations that people often do not get plane tickets despite availability of seats.
"The government turned Biman into a public limited company in 2007. From 2007 to 2018, you have been making losses. Why? Who are responsible for this?
"If all the private airlines can make a profit, why can't Biman do it too?" he asked.
Many foreign airlines operating flights in Dhaka are making thousands of crores in profit here, he said. "Why can't Biman make profits?"
A visibly upset Shahjahan then said a passenger told him that he could not book Biman tickets for London last week although there were seats available on the plane.
"Why this theft and robbery? It is tantamount to.... betraying the nation."
He then said the tenure of Biman managing director was extended recently by one year without informing him.
"You can extend the tenure by one or ten years. But I would have at least had some satisfaction if you informed me."
An angry Shahjahan Kamal then said he was a minister for private airlines only, not for Biman.
"The PM may become angry if she learns about this. But I am saying this out of my frustrations."
He then addressed Wing Commander Zia-Ul-Kabir, flight safety director of CAAB, who was present at the programme, saying, "Zia, please convey my sentiment to the PM. I am a freedom fighter. I have never been afraid of anything in my life and I will not be afraid now. I am a soldier of Bangabandhu. I am a simple man. I say what is on my mind."
Captain Ashfaq-Ur-Rahman Khan, flight safety chief of Novoair, said an emergency response plan should be in place to skilfully tackle a disaster like the US-Bangla plane crash.
At least 51 people, including 27 Bangladeshis, were killed in the fatal crash at Tribhuvan International Airport in Nepal on March 12. 
Anwar Hossain, Regent Airways' head of corporate quality and safety, said the country should have an aviation safety academy.
"We will not be able to prevent every aircraft accident. But we can reduce the number or the risk factors if CAAB ensures its supervision and regulatory functions properly," he said.
Hanif Zakaria, Regent Airways's chief commercial officer, stressed the need for setting up training centres approved by the International Air Transport Association for the country's booming aviation sector. Nepal, Pakistan and Sri Lanka have such centres.
Imran Asif, CEO of US-Bangla airlines, stressed the need for "objective reporting" by the media on fatal crashes so that passengers do not panic and negatively affect the aviation industry.
Aviation analyst Captain Mozammel said progress of a CAAB initiative to develop a flight safety management system was slow.
He added that an international conference on flight safety should be held in the country to find out loopholes and strengthen rules for civil airlines.
CAAB's Zia-Ul-Kabir said his institution had changed a lot in the last 20 years. The International Civil Aviation Organisation has certified that CAAB achieved aviation safety standard by 77.46 percent effectively.
He also said the government was considering setting up an aviation university, which would be the first in South Asia.
The minister welcomed the proposals of forming a national crisis management team and said he would consider the matter.
He also said the ministry was working relentlessly to ensure aviation safety and the sector had recently achieved safety competencies above the global average.
Aviation expert Kazi Wahidul Alam, Association of Travel Agent Bangladesh President Monzur Morshed Mahbub, Bangladesh Parjatan Corporation Director Sahadat Hossain, Bangladesh Airlines' Pilot Association General Secretary Capt Sajjad, former managing director of Biman MA Momen, Biman General Manager Shakil Meraj, among others spoke at the event.