A market run solely by women
Empowered by business, many have achieved solvency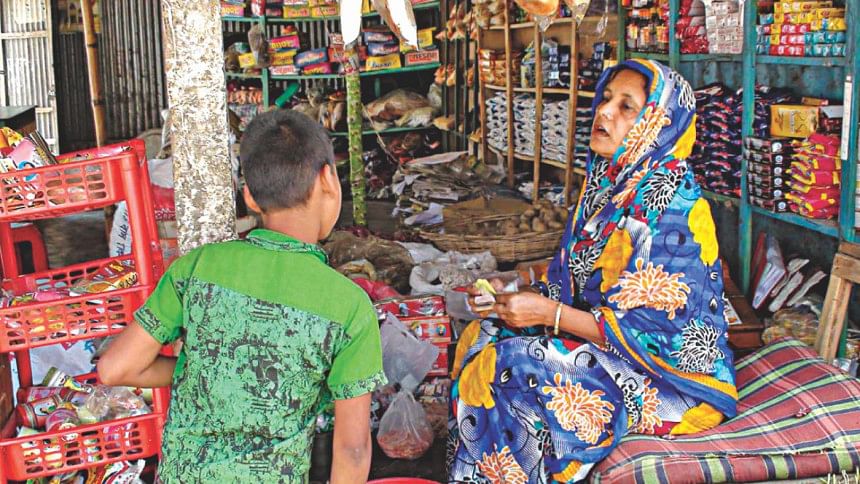 In East and West Amkhawa villages in Jamalpur's Dewanganj upazila, the face of retail commerce is changing. Thanks initially to a project run by non-government organisation Ganochetona, a new entrepreneurship trend has taken hold, a trend led by women.
As a growing number of village women have taken up the challenge of establishing their own small business in the local market, yet more are inspired to try.
Among the pioneers is Anowara Begum, now 33, from East Amkhawa. When in 2011 Ganochetona started offering five-day business planning and management training, and grants of up to Tk 15,000, Anowara was keen to be involved. She is married to Siddik Ali, a struggling carpenter, and with no familial farmland to rely upon, realising a decent household income was perennially just a dream.
In September of that year, Anowara, with Tk 13,000 in financial support from Ganochetona, nervously opened a tailor's shop. "It didn't happen smoothly," she recalls. "In the beginning there were the hazards of so-called social values and prejudices to overcome." Nonetheless she persisted.
Six years later Anowara is doing well. "From the business I achieved solvency for our four-member family," she says. "I built a house and leased a bigha of farmland. I've been able to meet the education expenses of our two children. Days pass happily now."
Majeda Begum, now 32, from West Amkhawa was pleased to witness Anowara's success. Several years ago at a time when Majeda was pregnant her husband Ibrahim left her, an act that consigned Majeda to a seemingly hopeless existence, in the unrelenting clutches of hardship and despair. But in 2012 she too thought to try her hand at business. She opened a cosmetics shop.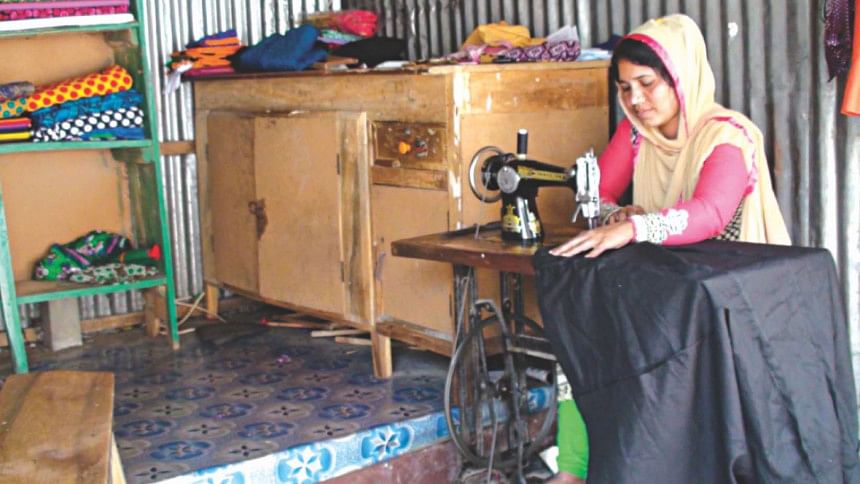 Nowadays, her once-dire economic circumstances are nothing but a bad memory. "I earn net profits of up to Tk 15,000 per month," Majeda says. "From business earnings I purchased land, built a home, bought a motorcycle for my son who has helped me a lot in establishing my business, and I helped him get married."
Ganochetona has provided business training to a total of 18 local women who now run various business including grocery and computer stores, and small eateries in the area's main market. Inspired by their success, a further 14 women from struggling families gained the confidence to start businesses of their own, without any assistance.
"We were able to involve women in running businesses as an alternative means to a livelihood," says Shyamol Roy who coordinated Ganochetona's project. "Often their husbands are farm labourers whose incomes have suffered a lot due to natural disasters."
Of the 50 shops in the marketplace, 32 are now run by women. The general secretary of the village market association, Konika Parvin, is herself a businesswoman.
"Many destitute women have been able to build a better future through business," Konika says. "We are empowered now. We can meet any obstacle arising from either within our household or from without, and we do it with self-confidence and courage."