Lone accused of Risha murder held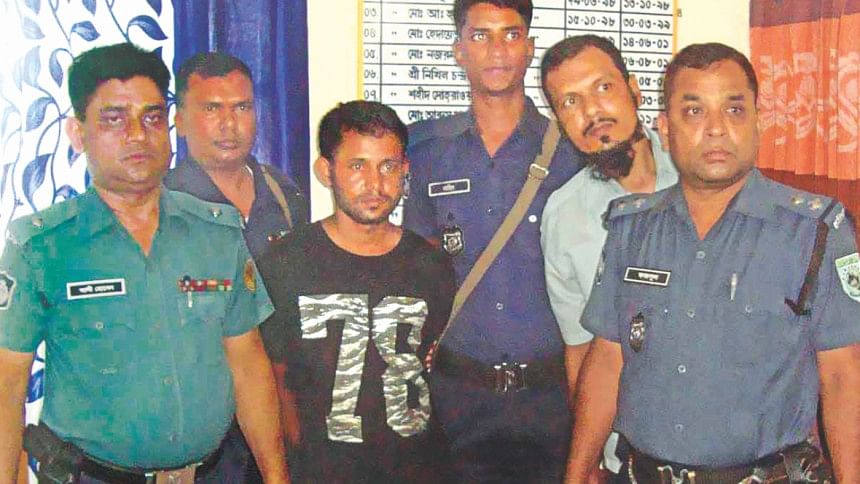 A week after Suraiya Akter Risha was stabbed leading to her death, law enforcers with the help of a local arrested the alleged attacker, Obaidul Kader, in Domar upazila of the district yesterday.
The suspect was having breakfast at a roadside restaurant at Sonaroy Bazar when a local recognised him and informed Domar Police Station, said Officer-in-Charge Ahmed Raziur Rahman.
Notified by Domar police, a team of the Rapid Action Battalion and police, who were on the lookout for the suspect, made the arrest, said Superintendent of Police in Nilphamari Zakir Hossain.
"We are in shock. But the arrest gives us hopes for justice," said Ramzan Hossain, father of Risha, a class-VIII student of Willes Little Flower School in the capital.
A special police team from Dhaka led by Additional Deputy Commissioner (ADC) AHM Azimul Huq was hunting for Obaidul in Thakurgaon, Dinajpur and Nilphamari, said Maruf Hossain Sorder, DC of Dhaka Metropolitan Police.
Obaidul, who used to work at a tailoring shop in Dhaka, fled and went to his village home at Miradangi in Birganj upazila of Dinajpur on August 25, a day after he stabbed Risha, SP Zakir said. 
But he left the village as local people recognised him after seeing pictures of him distributed by police.
Failing to find Obaidul in his village, police detained his sister Khadiza Begum and her husband Khademul Islam for questioning and learnt from them that he was likely to take shelter at Khademul's younger brother Khusbul Islam's place in Domar, the SP said.
Obaidul came to Khusbul's workplace, a branch of Brac in Domar, on Tuesday and told Khusbul he wanted to stay with him, but soon after police raided the office. The suspect managed to flee that time.
He was finally caught yesterday morning, said Zakir at a press conference at his office.
The police team from the capital left the district with the suspect around 11:45am.
Having been stabbed by Obaidul, Risha lost the battle for life on Sunday.
She had been harassed by Obaidul for months by phone and stalked on her way home from school, her father said.
Contacted, Shiblee Noman, assistant commissioner (Ramna zone) of Dhaka Metropolitan Police, told The Daily Star Obaidul was taken to Ramna Police Station in the capital around 11:00pm.
He said police would place Obaidul before a court and seek his remand.