A little care making big difference
World Autism Awareness Day today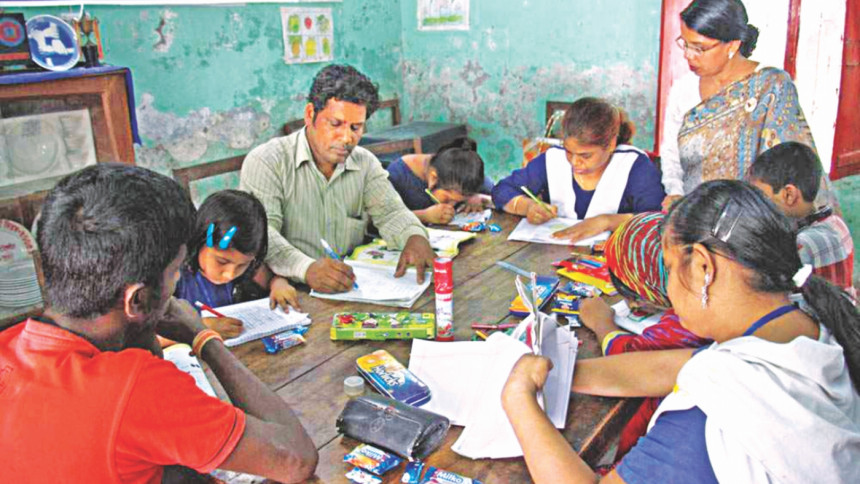 She has almost all the skills of a dancer. When she performs in a group on stage, she can hardly be distinguished from others. She gives her all in it.
Thirty-year-old Kohinur Akter Keya was born with autism and could not move without the help of others for several years. But today, she has come a long way and can entertain her audience with her dance moves.
She seems more confident after she started going to a specialised school for the mentally challenged children -- Buddhi Protibondhi Bidyalay -- at Shalgaria in Pabna town, says her mother Monjuara Parvin.
Though Kohinur's intellectual development and communication skills do not match her age, Parvin is proud that her daughter is dancing on stage.
"With proper training in her school, my daughter now performs like a perfect dancer. She has participated in different competitions in Pabna and other districts, and got prizes," she says.
Parvin, however, said their days in the past were hard as Kohinur, being an autistic child, did not have the social acceptance.
"When Kohinur was growing up, she was neglected by many of our own family members. Some of my relatives blamed me for giving birth to an autistic child. They said she was the result of my sins."
In many cases, people like Kohinur are regarded as mentally retarded but in reality, they are intelligent and require special care for their intellectual development, she said.
Kohinur is one of the 62 people with autism studying in the Pabna school run by Jatiya Protibondhi Unnayan Foundation under the social welfare ministry.
Headmistress Rashida Akter Ripa said the students attend various cultural programmes and participate in sports competitions at divisional and national levels, and win dozens of prizes.
However, they are often deprived of the basic education and nursing they need both at family and government levels, she said.
There are some special schools for them but most of them lack skilled teachers and other facilities, she added.
Around 0.8 percent of children between the ages of 5 and 17 have autism or neurodevelopment disorders in Bangladesh, according to the Neurodevelopment Disability Protection Trust under the social welfare ministry.
Autism is a lifelong developmental disability that affects how a person communicates with, and relates to, other people. The neural disorder usually appears in the early years of a person.
Monsur Rahman, district disability affairs officer in Pabna, said there was a lack of facilities for autistic children at the special schools.
Also, there are just two specialised schools in Pabna and they can teach only up to 100 autistic children at a time. However, the number of such children in the district would approximately be 1,100, he said.
Rahman also called for promoting social acceptance of autistic children and generating awareness on autism in Bangladesh.
World Autism Awareness Day is being observed across the globe today with the theme --"Autism and the 2030 Agenda: Inclusion and Neurodiversity."
In his message, UN Secretary-General Ban ki-moon has called for advancing the rights of individuals with autism and ensuring their full participation and inclusion as valued members of diverse human family who can contribute to a future of dignity and opportunity for all.
The call is very much relevant to the 2030 Agenda for Sustainable Development adopted at the United Nations. The agenda promises to leave no one behind.
However, Bangladesh still portrays a sorry state of the people with autism, said Rownak Hafiz, chairperson of the Autism Welfare Foundation.
"Awareness on autism has increased to some extent. But, the facilities for their [children with autism] education are really scanty.
"A tiny portion of some five lakh autistic children in Bangladesh can avail schooling… If we talk about inclusion, the mainstreamed schools need to have separate facilities for the autistic children," she told The Daily Star.