Prosthetic limbs give hope to Bangladesh's needy people
20-day camp in Nitor gives hope to children with tragic past
What Umme Kulsum remembers about her childhood is full of unfulfilled dreams and aspirations but the six-grader will surely be able to chase her dreams in her youth with the prosthetic leg given recently.
The shy little girl looked hopeful at the National Institute of Traumatology & Orthopaedic Rehabilitation (Nitor) in the second week of this month as she got registered with Jaipur Foot Prosthetic Limb Fitment Camp beginning on May 8.
Recounting the fateful incident that turned her life upside down at the age of four only, she said the thought of not being able to walk tormented her for all these years.
The girl child from a poor family living in the capital's Mohammadpur was crossing a road to a small departmental store to buy a candy when a minibus ran over her, causing her to lose a leg from below the knee down. 
The driver got away with inflicting the irreparable damage on her just by paying her Tk 15,000 in compensation.
Having been born to underprivileged parents, she had already gotten used to her necessities not being met often. But the life as an amputee was no less than a nightmare.
Nevertheless, she continued her studies at Firoza Ideal Academy in Mohammadpur.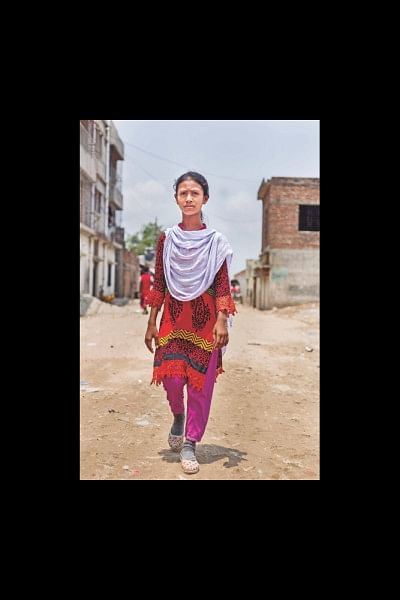 "I feel bad when I can't play with my friends, go out with them and do things a normal person does," Kulsum said at Nitor, the camp venue.
Authentic Method of Alternative Learning (AMAL), an organisation that works for development of marginalised children, approached her as part of gathering patients for the camp this year, which is organised and sponsored by Moyeen Foundation, a non-profit institution.
"Last year, we provided treatment to more than 600 people. This time, the number would be at least 500," said Sadia Moyeen, a director of Moyeen Foundation.
The camp that was made possible by a diverse group of organisations will continue for at least 20 days. 
Dow Chemical, a co-sponsor of this camp, is an old and renowned chemical company. Among its products is Polyurethane (PU), one of the substances needed to make prosthetic limbs.
Another organisation is Bhagwan Mahaveer Viklang Sahayata Samiti (BMVSS) that works on a project known as Jaipur Foot, which involves making prosthetic limbs and providing those to amputees.
Dow provides PU to BMVSS along with the technical expertise.
Jaipur Foot is one of the largest and most reputed initiatives when it comes to providing free prosthetic limbs. Its lightweight limbs are cost efficient and help amputees move with much ease and flexibility.
In Bangladesh, Nitor and Bangladesh Orthopaedic Society are giving the medical facilities needed during the camp. A team of BMVSS is in the country to assist.
Upon receiving prosthetic limbs, the patients are then offered vocational training by Underprivileged Children's Educational Programmes, Bangladesh to complete the rehabilitation process.
Kulsum, as she was getting her prosthetic limb fixed, said, "My family and friends are very excited. I hope it really works out and that I can begin living a normal life."
The medical team helped her walk for a while with the prosthetic limb on as she had not walked for many years.
A few days later she sounded very euphoric as she spoke over the phone. 
"My school takes children to picnics. Previously I could not join my friends.... This time I went and had a really good time."
By this time, she informed that she had participated in drama and dance performances at her school.
The childhood memories would surely live with her forever but life has offered her a chance she so deserves to look forward to a better future. 
She indeed seemed to have moved on as she said, "I want to be a doctor one day and help those impoverished."