Lightning strikes most in May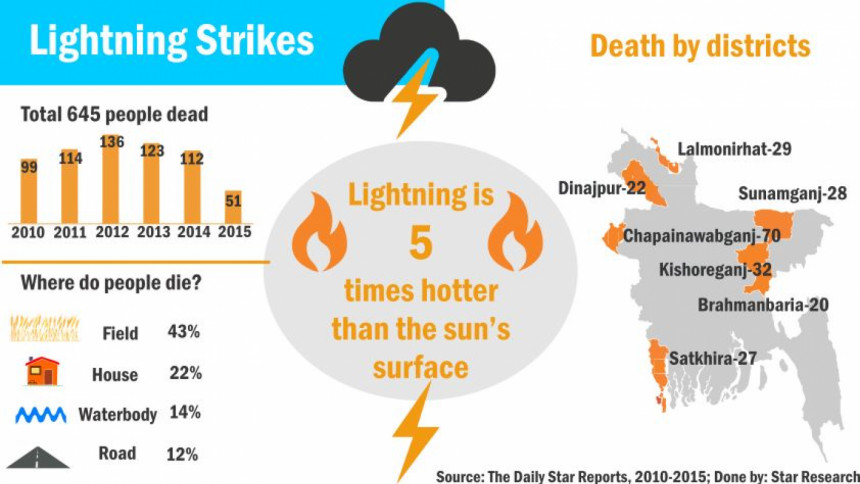 What is five times hotter than the surface of the sun and is capable of killing a person in a split second? It's lightning.
And you should be careful if you are out in gloomy weather because May has the highest number of lightning-strike deaths in a year in Bangladesh.
Every year at least 117 people get killed by lightning strikes, according to reports published in The Daily Star between January 2010, and May 2015. The actual number is much higher since many incidents go unreported.
However, people in cities are relatively safer than the ones in rural areas.
The Daily Star study suggests that the majority of lightning-strike victims are farmers, 51 percent, and most of them had died while working in their fields.
Some 11 percent are students -- who were struck on their way to or from school.
According to the study, staying indoors during a thunderstorm may not guarantee safety in rural areas. In fact, 22 percent of those killed were inside their houses when they were struck.
So be careful in the months of April, May and June, when lightning related deaths are the highest.
The safest time is November to February with just one recorded death in five years.
The study has also found that 81 percent of the people who had died were struck between 6:00am and 6:00pm.  
Some districts seem to be more prone to lightning strikes. The highest number of deaths was recorded in Chapainawabganj, 70, followed by Kishoreganj, 32. Lalmonirhat had 29 deaths, Sunamganj, 28, Satkhira, 27, Dinajpur, 22, and Brahmanbaria 20 deaths.
HOW TO BE SAFE
According to Sanaul Haque, the Met office duty forecasting officer in Dhaka, rural people, especially farmers working in the open during thunderstorms, should lie down or sit down in their fields rather than taking shelter under a tree.
"Generally when lightning strikes, it hits the top-most point in an area. So it is dangerous to stand in an open field during a thunderstorm," he said.   
When asked if setting up lightning towers in rural areas would provide better safety, Sanaul claimed that the government had actually never thought of such an enormous task.
The met office only keeps count of the thunderstorms, not the deaths caused by lightning strikes.
Asked if there are more lightning strikes these days, Sujit Dev Sharma, former scientific officer of Saarc meteorological office, says more people are dying in thunderstorms in recent years because of population increase in Bangladesh.
He also says due to an alert media, the deaths are getting reported, unlike the olden days.