Life term for woman who tortured house help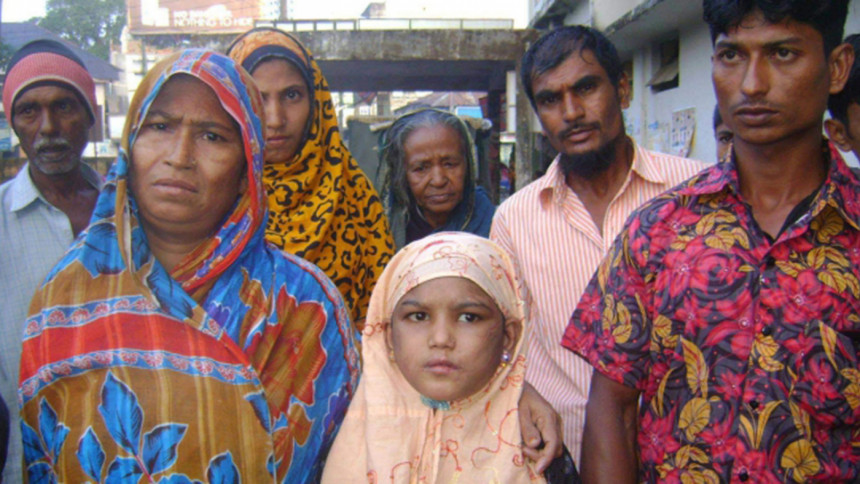 A woman was awarded life imprisonment for torturing an 11-year-old domestic help and dumping her into a dustbin in Dhaka nearly four years ago, assuming that she was dead.
Judge Jayasri Samaddar of the Third Tribunal for Women and Children Repression handed down the sentence in presence of the convict, Nawrin Jahan Nodi, in a packed courtroom yesterday.
The tribunal said the prosecution proved the charge brought against the woman beyond any doubt. It also fined her Tk 1 lakh, which will be handed over to the victim's family in compensation.
The court acquitted Nawrin's mother Ishrat Jahan as the charge brought against her was not proved.
Hearing the judgment, Nawrin started asking the on-duty policemen to take her outside the courtroom so that she could commit suicide by jumping off the fourth floor of the building.
Aduri, now 15, her mother and an uncle, who were present at the court, expressed satisfaction over the verdict.
The judge observed, "It is a case of offence of causing wrongful confinement in a house and attempting to cause death of a child by burning on several occasions, by torturing her physically and mentally, by keeping her foodless or half-feeding and throwing the victim into the dustbin."
Terming it an unusual case, she said the incident touched the human conscious, dignity and honour. "The fact of the case as revealed by the prosecution shocked the judicial conscious."
The judge said the accused Nawrin gave a confessional statement before a magistrate, where she said she lived with her mother because of her troubled relationship with her husband. "So she was always mentally depressed. With her mental depression, she used an old super jackpot automatic iron and an old iron khunti for torturing the victim."
In her statement before a court, Aduri described how she was tortured brutally and thrown into a dustbin.
Aduri was found unconscious in a severely malnourished state, riddled with injuries and scars near a dustbin in the capital's DOHS Baridhara on September 23, 2013. Two women rescued the victim from the dustbin and handed her over to police.
The incident created huge sensation and outcry among the people.
Three days later, a case was filed with Pallabi Police Station, accusing Nawrin and her mother of torturing Aduri.
Seeing media reports, Aduri's relatives came to know that the girl was in Dhaka Medical College Hospital in a critical condition.
Later on September 26, police arrested Nawrin and her mother. Nawrin gave a confessional statement before a magistrate and police later pressed charges against her and her mother.
Now a student of a madrasa, Aduri still bears the torture marks. "I can't forget the incident. I can't sleep well even today," she told our Patuakhali correspondent on Monday.