Landslide in Malaysia: Bangladeshis feared to be among dead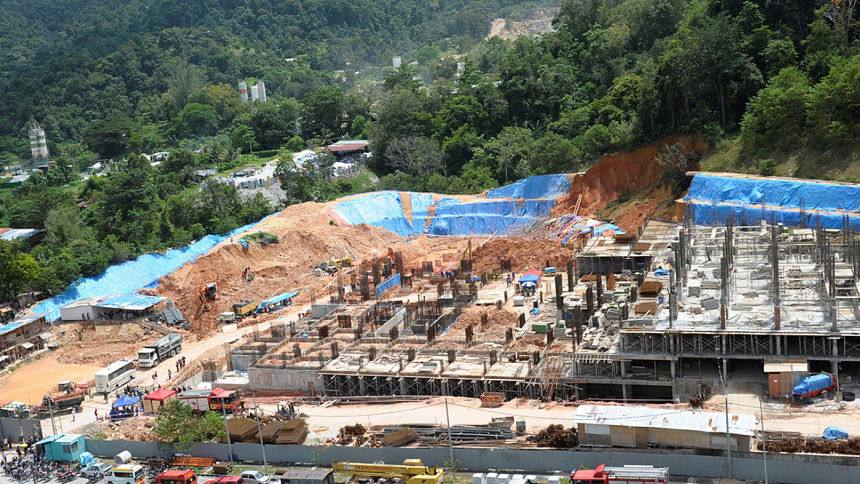 A few Bangladeshi workers are feared to be among those killed yesterday in a landslide at a construction site in northern Malaysian state of Penang.
Rescuers found bodies of three foreign workers, and were searching for 11 others feared trapped in the mud and rubble, reports Malaysian state news agency Bernama.
There were a total of 14 workers -- one from Malaysia and others from Bangladesh, Indonesia and Myanmar. 
Sayedul Islam, labour counsellor of Bangladesh High Commission in Kuala Lumpur, said a high commission official had gone to the spot and learnt that a few Bangladeshis would be among those buried alive.
"We could not determine their identities or their number yet," he said, adding that the employer could not be found.
As soon as the Bangladeshi victims are identified, the High Commission will make an arrangement to send the bodies home and then will try to realise compensation, Sayedul said. 
Bernama reports that the landslide at a hillside in Georgetown, where work on an affordable housing project was ongoing, was believed to have involved 14 victims.
Bangladeshi worker Mohammad Jashim Hussein Ahmad said the landslide had caught workers unawares burying his friends who didn't get any time to escape.
Penang city Mayor Maimunah Mohamad Sharif said the cause of the landslide wasn't clear.
"We are waiting for the report from the engineer to know the exact cause of the incident," she said, adding that the council had issued an order to stop the project work.
Penang Fire and Rescue Department Director Saadon Moktar said the rescue operations involved three zones on an area of 15 square metres, and it was expected to take time as all the victims were buried deep under the clay soil, and there was possibility of another landslide.
Meanwhile, Malaysian Prime Minister Datuk Seri Najib Tun Razak expressed his grief over the landslide.
"(I feel) Sad about the landslide in Tanjung Bungah. Hopefully, the search and rescue mission runs smoothly, let us pray together," Najib said in a note on his official Twitter account.
POLICE NABS 39 BANGLADESHIS IN MALAYSIA
Meanwhile, immigration police last Monday nabbed 113 foreign workers -- 39 Bangladeshis, 40 Nepalese, 27 Pakistanis, two Indians and five Vietnamese -- for not having proper travel documents, reports The Star, an English newspaper in Malaysia.
The police raided a warehouse at Klang, a town of Selangor state, and conducted a check on 150 foreigners working at the warehouse that belonged to a major supermarket chain of the country.
Immigration Director-general Datuk Seri Mustafar Ali said 113 of those checked did not have proper travel documents.
The Immigration Department has so far deported 42,985 illegal foreigners this year, Mustafa said, urging the public not to harbour any undocumented foreigners.