Kidnappers of boy demand Tk 1 crore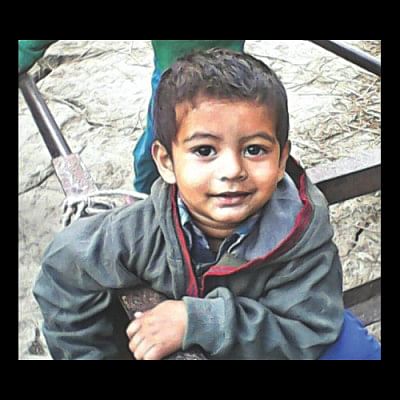 Criminals yesterday demanded Tk 1 crore as ransom from a man after stealing his two-year-old son from their home in Galachipa upazila, said police.
The victim is Habibur Rahman, son of Kanchon Ali Sarder of Chander Howla village in the upazila.
The parents suspect that the child has been kidnapped by his stepbrothers over property-related feud. The brothers, however, rejected the allegation.
Jainab Begum, mother of Habibur, told The Daily Star that her son had been picked up from their home in the early hours of Thursday.
"I along with my husband and son was asleep on the same bed. Around 2:00am, I suddenly woke up hearing my son's screams.
"It was quite dark at that time. Before we could realise anything I saw two masked men taking my son away through the door," she said, adding that they disappeared immediately.
Asked, she said it was not a break-in.
On Information, police went to the spot around 4:30am.
The father, Kanchon, filed a case later at night with Galachipa Police Station against his sons Belal Hossain and Sona Mia for their alleged involvement in the crime.
Quoting the father, Abdur Razzak Mollah, officer-in-charge of the police station, said an unidentified man called Kanchon over the phone around 9:30am yesterday and demanded a ransom of Tk 1 crore for his son's release.
Kanchon said Belal and Sona might have kidnapped their stepbrother for money as he had recently asked them to hand over the ownership of some business establishments in the town to the victim.
The brothers, son of Kanchon's first wife, termed the allegation "baseless". "It's a conspiracy against us," said Belal.
OC Razzak said they were dealing with the case with "due importance".
SI Jakaia of the police station, also the investigation officer of the case, said they were trying to rescue Habibur.