Journey highly risky
Little success in efforts to stop over-loading on river ways
Overcrowded launches with too little safety gear left the Sadarghat and Mawa launch terminals in the capital and Munshiganj yesterday, putting the lives of thousands of home-goers at risk.
Rough weather and swollen rivers made their trips even more risky. Law enforcers and officials of Bangladesh Inland Water Transport Authority (BIWTA) did not act to stop overloading of vessels.
Visiting the two terminals, this correspondent found that most of the launches were carrying passengers more than double their capacity.
At least four single deck vessels left the Mawa terminal for Kawrakandi of Madaripur between 12:00pm and 1:00pm.
The Hirak has a capacity of 198 passengers, but it carried over 400. Over 300 passengers boarded the Sajal against its capacity of 151.
Another launch, the Farzana and Sanjida was carrying over 300 passengers, around 210 more than its capacity. The Chatalpar plied the route with some 350 passengers against its capacity of 150.
Launch drivers at Mawa did not start their vessels until the BIWTA officials forced them to do so.
The shipping ministry had asked launch operators to keep enough life-saving gear on board, but there were hardly one or two life buoys and life jackets in each of the vessels.
However, most of the speedboat passengers put on life jackets while crossing the Padma.
Around 80 launches operate on the Mawa-Kawrakandi route daily, said sources.
At Sadarghat terminal, around 2,000 passengers got on MV Ranadut Plus for reaching Vandaria of Pirojpur, though its capacity is 720. The MV Parabat-9 was about to leave for Barisal carrying over 2,000 passengers, nearly 1,400 more than its capacity.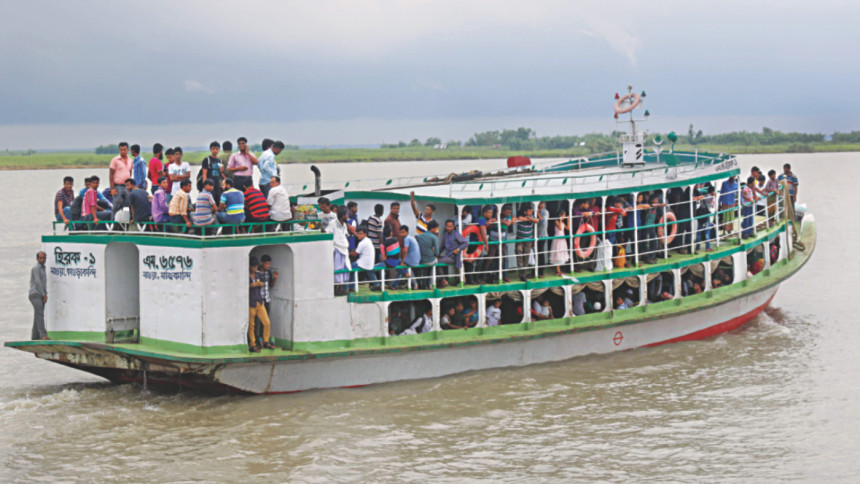 Mir Tareque Ali, professor of Naval Architecture and Marine Engineering of Bangladesh University of Engineering and Technology, said overloading of passengers must be stopped at any cost as it is the main reason for accidents in waterways.
He suggested that the government take additional measures to ensue safety of passengers as the Eid-ul-Fitr falls in the monsoon this year.
Seeking anonymity, a BIWTA official said it is not possible for them to check overloading of passengers due to the huge rush of holidaymakers.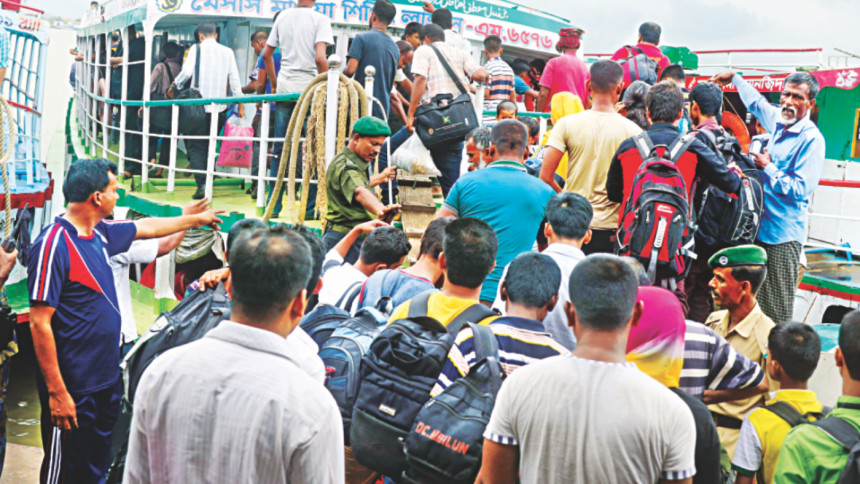 "If we make an attempt to unload passengers from vessels with the help of law enforcers, it might ultimately trigger a clash between the law enforcers and passengers," he noted.
A passenger of MV Surovi-9, Mashiur Rahman said they risk their lives on trips to Barisal ahead of every Eid due to overloading of vessels by launch operators. "The operators and the government made many pledges to make our journey safe, but hardly anything has been done to meet them. We want to travel home safely."
According to government statistics, 180 people die in accidents in waterways annually on an average. However, the National Committee to Protect Shipping, Roads and Railways said river accidents claimed 326 lives every year on an average in the last 20 years.