Initiative one, smiles many
Business group funds paediatric intensive care unit at Chittagong Medical College Hospital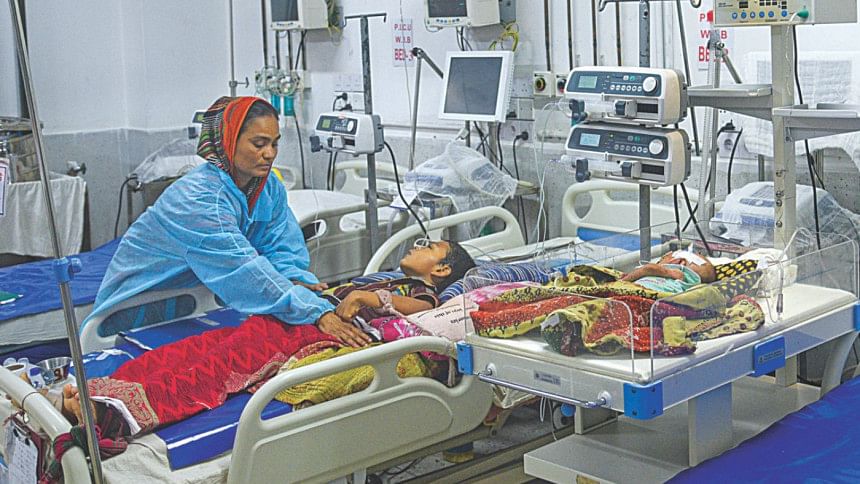 A few short years ago, financially struggling parents with very sick children in Chittagong had nowhere to turn. The only options for intensive care, at private clinics and hospitals, were cost prohibitive. In October 2015, the situation changed for the better. Supported by local business house PHP Family, a 10-bed paediatric intensive care unit was inaugurated at the Chittagong Medical College Hospital, with children from low-income households in mind.
"My 18-month-old son Orchid has pneumonia," says Anima Barua from Lohagara upazila. "He spent four days in intensive care at a private hospital. It cost around Tk 30,000. As my husband is a small-time trader we can't afford fees like that. On 10 February, my son was admitted here. This facility can help families a lot. They should increase the number of beds."
"The paediatric intensive care unit at this hospital is such a blessing for poor people like us," agrees housewife Rima Akter from Rangunia upazila. Her two-year-old son Tahmid Sarwar is a patient. "Our son needed intensive care last year too," she says, "and we spent around Tk 1.15 lakhs in 10 days at a private clinic. My husband is a low-level employee at a school. To raise the money, we had to take a high-interest loan."
"Last time there wasn't any bed available here," Rima continues. "This time we were lucky. We have to buy medicines but everything else is free."
"This paediatric intensive care unit is the first of its kind, nationwide, in a government hospital," observes Dhiman Chowdhury, a consultant physician.
"Previously, we couldn't provide the best support to young patients since we had no unit of this kind," says the head of the hospital's paediatric ward, Pranab Kumar Chowdhury. "A good number of patients died every year for the unavailability of specialised intensive care support. Now we can give better care to children and infants with dangerous illnesses like pneumonia, encephalitis, meningitis, severe hepatic and renal impairment, and congenital heart disease."
"Since this unit's opening, mortality rates among such patients have nearly halved," he adds.
The hospital's director, Brig Gen Md Jalal Uddin, notes that the specialised unit has been possible only for the financial assistance of the PHP Family business group. "We are very thankful. Since its inception they have covered almost all costs, and continue to do so," he says. "Increasing the number of beds is under active consideration."