Hilsa scarce ahead of Baishakh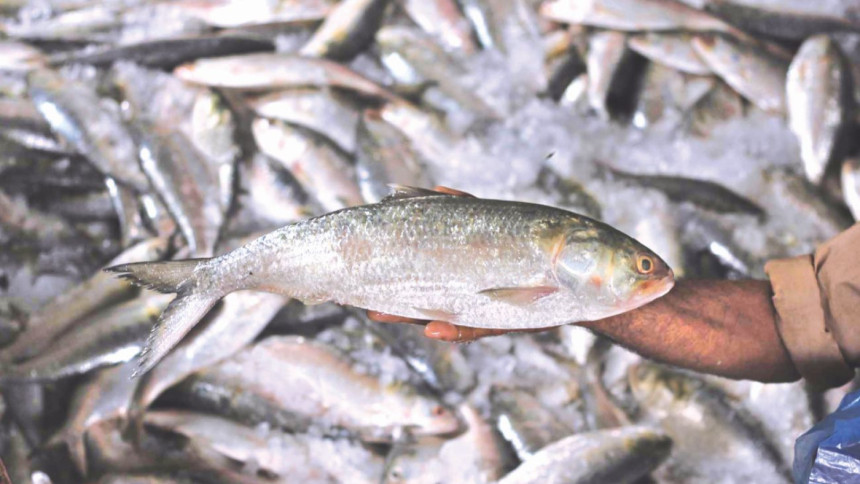 The price of hilsa has shot up just a week ahead of Pahela Baishakh because of supply shortfall triggered by a ban on catching the fish in some certain parts in the rivers.
During a visit to the Hilsa-Mokam in Port Road area of Barisal, a small supply of the fish was seen because of the ongoing two-month ban on hilsa fishing in a 340-kilometre area of five major rivers in the six southern districts.
The ban imposed by the Department of Fisheries began on March 1 with a view to prevent fishermen from catching fish fry including jatka and to facilitate safe spawning of the fish, said District Fishery Officer Wahiduzzaman.
Different government bodies including the administration and law enforcement agencies are trying to implement the ban strictly. As a result, the hilsa traders on Port Road are selling seasonal watermelons, said Bimal Chandra Das of the DoF, Barisal.
Ajit Das Manu, a hilsa trader of Port Road, said they are forced to sell watermelons as they are not receiving any supply of hilsa or other fishes due to the ban.
Farid Mia of the same area said, "Hilsa is not available in the market. But there is a huge demand for it due to the Pahela Baishakh festival."
The price of hilsas weighing up to one kilogramme, if available, has increased by 20-40 percent, said Ajit Kumar Das, president of Barisal Fish Export Association.
Another trader Ali Jasim said the price of the fish has already increased by 50 percent ahead of the Bangla New Year.
More than 2,000-5,000 mounds of hilsas was sold every day at the Port Road wholesale market two months ago, but now there are no such activities there.