A haven for migratory birds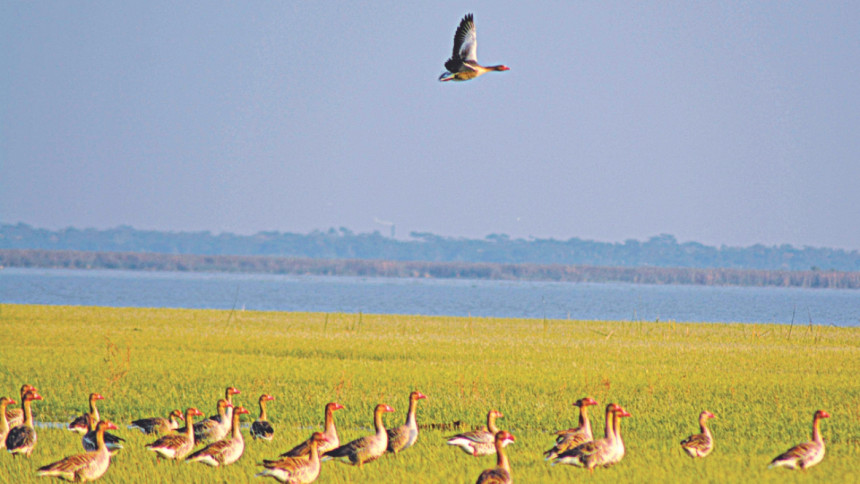 The chirping sound of migratory birds pierces the silence at Char Moazzin in Patuakhali district.
They flap their wings and fly across the river blissfully. Some perch on the edge of the shore along the river, feed on small fishes and drink water.
The newly emerged shoal by the Tentulia river has been attracting these birds for about 10 years during the winter season because of nearly zero presence of humans.
They fly here from Siberia, searching for food during winters, said Pijush Kanti Hori, former chairman of the zoology department of Patuakhali Government College. 
 Like previous times, they came in hundreds in early December and will stay until the winter retreats at the end of February.
The land of the shoal, about 35 kilometres south of Patuakhali town, is soft and so is not cultivable or fit for building any structure, local people said.
Devoid of people, it thus became a sanctuary for migratory birds that live off a plenty of crabs, small fishes and snails.     
However, small fishes are their favourite, local fishermen said.
These birds look like goose and weigh about 5 Kgs, said Abul Kalam, a fishermen of Bogi village under Dashmina upazila.
Its beak, legs and neck are longer than the goose.
These migratory birds are also found in many other remote shoals in Patuakhali, where people's movement is very little, said Abdul Mannan, another fisherman of the area.
Female birds lay three to six eggs, and young birds come out within 22 to 28 days. As the winter ends, the mother birds return to Siberia with the young ones.
These guest birds enrich the natural beauty of the area, said Toufiq Sarder, leader of Manta community, adding a gang of hunters often kill these birds by laying poisonous traps and other means.
These birds are sold privately and secretly. Each of them fetches Tk 400 to Tk 500, Toufiq said.
Stringent actions should be taken against poachers to save all kinds of migratory birds, said Pijush, ex-chairman of the zoology department of Patuakhali Government College.
He suggested declaring some shoals to be sanctuary for migratory birds that come during the winter season.
"If we fail to ensure safe haven for these birds, they will not come in future."