Mission mother's safety
Anjali earns trust of Lalmonirhat villagers for her help in safe delivery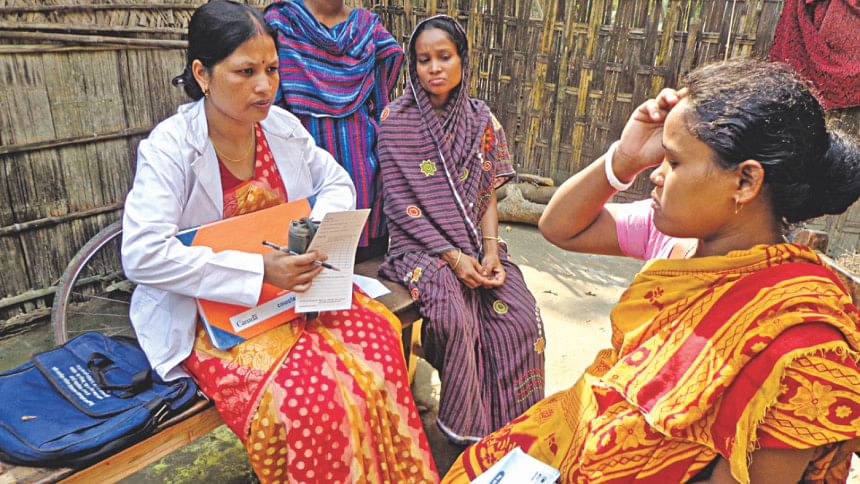 Although she is not a doctor by profession, villagers of Gotmari in Lalmonirhat lovingly call her "Dakter Apa".
Anjali Rani, a community skilled birth attendant, has been supporting pregnant women during their pregnancies, deliveries and postnatal period for over eight years.
"My baby is alive only because of doctor apa [sister]," said Rabeya Begum of Gotmari village in Lalmonirhat.
She was saying how grateful she was to Anjali for being there by her side whenever she needed during her third pregnancy, delivery and postnatal period.
Rabeya had given birth to two stillborn babies earlier. So, she was worried and afraid this time. "What if the same happens again!" the 35-year-old said.
Everything went smoothly this time during the normal delivery at home in Hatibandha upazila last year, Rabeya said, adding that the midwife, Anjali, had taken care of it well.
Like Rabeya, many women in Gotmari and seven other villages of the upazila have had childbirths under the care of Anjali. They all appreciate her role in ensuring safe delivery and healthy baby.
Anjali passed Secondary School Certificate exams in 2002. Her poor family married her off to Bijoy Chandra Barman, a rickshaw-puller, of Gotmari two years later.
The need for proper care of mothers before, during and after delivery struck Anjali after she herself gave birth to a son in 2006. She had been into labour for a day when no help was there nearby. 
Having had such an experience, she said she wanted to give support to pregnant women.
Without any knowledge about issues involving pregnancy and infants in different phases, she began working voluntarily in 2007 with women who had long been giving services as midwives in the villages, Anjali, now 29, said.
She would go door to door with them and see how they helped women during their normal delivery and dealt with the issues before birth and afterwards.
The nearest healthcare, Hatibandha Upazila Health Complex, is around 17km away. The muddy and bumpy road takes more than one and a half hours to reach the hospital.
The unfavourable road condition discourages mothers, mostly poor, in the villages of Hatibandha from going to the hospital, villagers said. They instead seek help of midwives.
These so-called midwives do not have any academic qualification in medical science or childcare, rather they work with experiences gained over the years.
During her voluntary work, Anjali came to the notice of Eco-Social Development Organisation, an NGO funded by the Department of Foreign Affairs, Trade and Development, Canada, and Plan International, a global development organisation, in 2012.
She was then given six-month training in birth-related issues under Human Resource for Health Project run by the NGO, said Abdul Bari Sarker, technical officer of the project.
A year back, Anjali was recruited as birth attendant at Family Welfare Centre in Gotmari Union Parishad. She is paid Tk 3,000 a month, which is donated by community people, said UP Chairman Abdul Jalil.
"Anjali Rani is doing a great job, for which she is known as doctor apa in the union," he said.
She is playing a vital and positive role in society, said Harunur Rashid, deputy director of the family planning department in Lalmonirhat.
Anjali works at the centre for four days a week and visits homes in villages three days when she gives advice to mothers on how to take care of themselves and their babies.
She even advised 53 women in the last three years to go to hospital as their pregnancy had some complications, Anjali said.
"I am very proud of being able to help them [mothers and babies]. I will continue doing this for the rest of my life," she added.