Ghost voting makes turnout high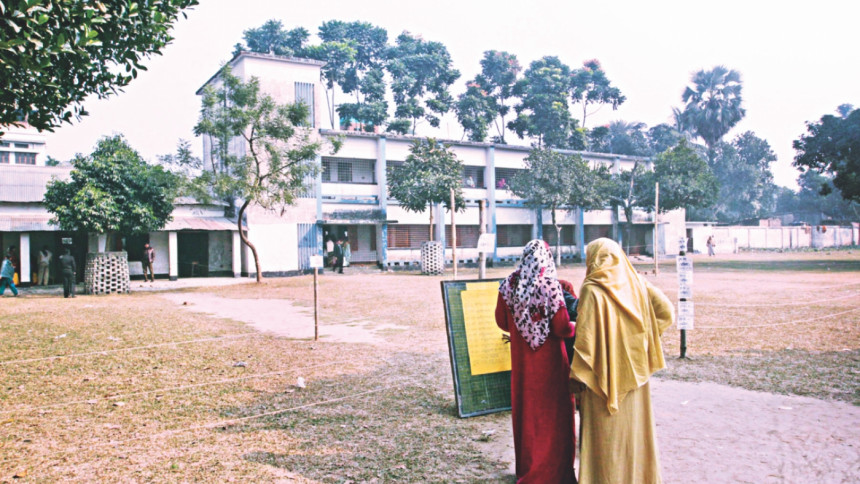 Some polling centres in Savar municipality recorded an abnormally high turnout yesterday although the presence of voters was visibly thin.
Visiting some polling stations around 3:00pm, The Daily Star found that over 60 percent votes were cast in some centres against the average turnout of about 30 percent.
For example, 1,554 male votes out of 2,250 and 1,325 female votes out of 2,394 were cast at Savar Girls School centre, 1,357 male votes out of 2,673 at Savar Model Govt Primary School, 1,345 votes out of 2,380 at Central School and College and 908 votes out of 1,352 were cast at Madinatul Ulum Madrasa, according to presiding officers.
They claimed the turnout increased as the day progressed.
Out of 80 polling centres in the municipality, this correspondent visited 22 and found no agents of the BNP mayor nominee in 13 centres.
In the morning, AL, Jubo League and Chhatra League men walked in and out of the polling booths in many centres.
Shirina Akter Mitu, wife of the BNP mayor candidate Badiuzzaman, alleged that there were irregularities in at least 40 centres.
"Awami League men drove away our agents from all the centres in wards no-2, 3, 4, 5, and 8.  They closed the doors of the polling booths in those centres around noon and stuffed ballots," she complained.
Shirina said some of her husband's agents even did not go to polling centres as they were "threatened by the ruling party men".
The BNP mayor hopeful has been on the run for fear of harassment by police and AL men.
Manirul Islam, presiding officer of Natun Kuri Bidyaniketan polling centre, said no polling agent of BNP candidate Badiuzzaman contacted him.
Out of 2,654 voters under the centre, only some 500 exercised their franchise in six booths until 2:30pm, he added.
Meanwhile, independent mayor candidate Salauddin Khan alleged that several hundred garment workers were brought to polling centres from different factories to cast fake votes. He, however, didn't say who brought them.
Interestingly, the number of the polling agents of AL mayor aspirant and councillor candidates surpassed the number of voters at several polling centres around noon.
Presiding and polling officers, polling agents and law enforcers were found sitting idly and gossiping at some centres around 1:00pm as there were no voters.
"Voting is almost over here. We are waiting as about an hour is left before the polls close," Shajedul Islam, a polling agent of AL mayor hopeful Abdul Gani, told this correspondent around 3:00pm.